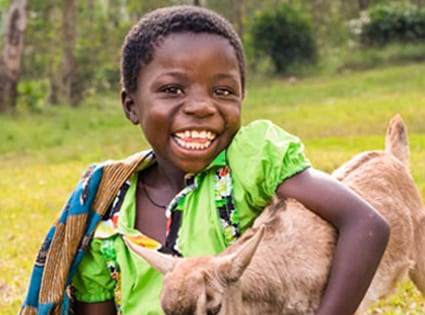 World Vision allows you the chance to give life-changing gifts such as clean water, food and education to people around the world.
For more than 20 years, the World Vision Gift Catalog has become one of the most popular gift-giving alternatives for families across the United States. Last year, more than 122,000 Americans donated to the catalog, giving life-changing gifts such as goats, clean water, food and education to millions of people around the world and right here in the U.S.
This year, the organization is pleased to announce that actress Patricia Heaton—World Vision Christmas campaign celebrity spokesperson—is joining the global effort to help mothers around the world through its Gift Catalog. She had the opportunity to see the impact of the catalog first-hand when she traveled to Zambia last year with the Christian humanitarian organization.
"When I was in Zambia, I met Matrida, one of World Vision's health specialists. She and her team created a recipe book of healthy, easy-to-cook recipes for moms with ingredients they can find nearby or grow at home. Meals like omelets, banana porridge and veggie sausages," said Heaton. "Moms everywhere want to see their children grow up healthy and strong, and World Vision is helping them to do that."
World Vision's Gift Catalog began in 1996 with a handful of humanitarian gifts. Today, the catalog gives shoppers more than 250 tangible ways to improve the lives of children and their communities. Gifts range in price from $16 to $39,000 and can be made in a loved one's name. Shoppers also can choose to send a personalized card describing the gift and its impact.
"Moms around the world share a special connection, no matter where we live. We all want the best for our children. We want to see them grow up strong and healthy, have the opportunity to go to school and pursue their dreams, and develop a sense of compassion and understanding for the world around them," said Cheryl DeBruler, World Vision's gift catalog manager. "As a mother myself, I'm no different. And I'm thrilled that Patricia Heaton is joining countless parents across the country in supporting World Vision's Gift Catalog. Her partnership will continue to help us support mothers and their children around the world."
Here are other examples of alternative gifts featured in this year's catalog:
Give them a healthy start: Every mom knows that a great way to start the day is by giving your kids a healthy breakfast. For $18, you can help mothers in the United States make sure their children have nutritious foods like warm cinnamon oatmeal. While you're at it, pour yourself a cup of fair-trade coffee ($75 for 10 ounces whole bean coffee set) to jumpstart the morning.
Adorable animals: Gifting a goat is one of World Vision's top-selling items every year, and these furry, adorable animals do more than just cuddle. One goat provides a family with up to 16 cups of milk a day, and the extra milk can be sold at the local market, providing a regular source of income for the family. When you give an animal such as a goat ($75), alpaca ($25) or a sheep ($126) to a family in need, the offspring are often shared with others in the community—changing generations of lives with your gift.
Elmo says … wash your hands! For the first time, Sesame Street's lovable new Muppet™, Raya, and her friend, Elmo, are appearing in the Gift Catalog this year. Your gift of a Sesame Street WASH Up! Kit ($100) provides teachers with brightly printed education materials, engaging videos and fun activities that will teach children the importance of good hygiene.
Fair-trade fashion for you and baby: Choose from a number of beautiful, hand-crafted fair trade items like this silver vines cuff bracelet from India ($85), a brightly-beaded turquoise medallion necklace ($75) or this bib made from recycled fabrics in Bali ($40). Your gift to help where World Vision needs it most will address specific, urgent needs that might otherwise go unmet without your support.
Donations can be made by you or in the name of a loved one, to whom you can choose to send a personalized card that describes the gift and its impact. You can even print these cards online as a great last-minute gift option.
To order from World Vision's Gift Catalog, visit WorldVisionGifts.org or call 855-WV-GIFTS. Want to see where your dollars go? Check out this video from World Vision to learn more:
About the World Vision Gift Catalog
Since 1996, the World Vision Gift Catalog has given people the opportunity to better the lives of children, adults and communities in the U.S. and around the world through hundreds of gifts in all different areas of need: clean water, food, education, sexual exploitation, job training and others. In fiscal year 2015, more than 122,000 Americans raised more than $29.3 million through the Gift Catalog, helping more than 650,000 people around the world. To order from World Vision's Gift Catalog, visit WorldVisionGifts.org or call toll-free at 1-855-WV-GIFTS.
About World Vision
World Vision is a Christian humanitarian organization dedicated to working with children, families and their communities worldwide to reach their full potential by tackling the causes of poverty and injustice. World Vision serves all people regardless of religion, race, ethnicity or gender. For more information, please visit WorldVision.org/media or follow on Twitter: @WorldVisionUSA.