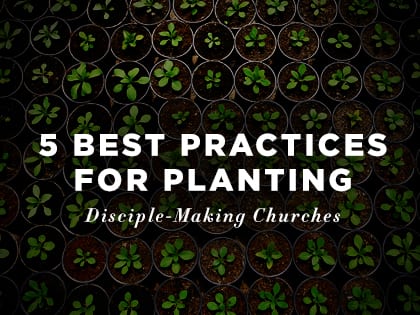 "Planting a church of disciples who make disciples isn't only doable; it is what Jesus commanded his church to do."
As leader of the discipleship tracks at the annual Exponential church planting conferences and founder of Discipleship.org, Bobby Harrington brings together the nation's top disciple-making leaders to give them the opportunity to join their individual forces and focus on their common mission. As a result, he gets a front-row seat to listen in to their insights and learn what these world-changing ministries are doing to advance the Great Commission. He continues to see how their best practices are essential for planting churches that multiply disciples from day one. Below, Harrington gives us an inside look at five best practices these leaders are carrying out to multiply the church.
1. They make disciple making the top priority.
When Exponential Director Todd Wilson was writing the book Becoming a Level 5 Multiplying Church, we talked about key factors behind what he calls Level 5 multiplication. Todd focused on these churches' faith-filled leadership decisions. I focused on their discipleship practices. We agreed that such movements are also uniquely guided by the Holy Spirit and surmised that Level 5 churches come from 50 percent disciple-making practices, 25 percent leadership decisions and 25 percent a miraculous move of the Holy Spirit. I felt good about our conclusions until I met Ralph Moore.
"I think disciple making is 90 percent of church multiplication," he told me. Moore pioneered the Hope Chapel movement, the clearest example of a Level 5 multiplication movement in North America. Hope Chapel now has a legacy of more than 2,300 churches. Moore's track record and reasoning are difficult to dispute.
Dann Spader of Sonlife Ministries and Global Youth Initiative is creating disciple-making movements in more than 90 countries. He describes leaders like Ralph Moore as "bleeders."
"They are so committed to disciple making that if you cut them, they will bleed it," Spader says. Discipleship author and speaker Bill Hull calls them "discipleship-first leaders."
However you describe it, disciple making is these leaders' top priority. They live it personally, talk about it regularly and lead their church to make it an everyday reality. These leaders multiply everyday disciples who then become disciple makers and multiplying leaders. Many naturally rise up to become church planters.
We see this kind of multiplication in the early church as Jesus invested in Peter, James and John. As leaders make disciple making their top priority, we have the same potential today.
2. They focus on everyday Christians.
Too many times, we think that multiplying disciples requires a special type of leader and congregation. These national ministry leaders continue to affirm that disciple-making churches start with everyday, ordinary people.
Jim Putman decided to plant a church and then moved to Post Falls, Idaho. He was committed to planting a church around Jesus' method of disciple making and hoped that God would eventually bless his church with 200 to 300 people. Today, some 6,000 people gather at Real Life Ministries in a metropolitan area of about 40,000 people. Putman then helped launch the Relational Discipleship Network of churches with leaders who follow Jesus' method of disciple making—churches filled with everyday people who have developed a core commitment to be disciples and make disciples where they live.
Most of the 90-plus pastoral staff at the church came to faith and eventually progressed to join the staff from within the church. These leaders started out as non-Christians who visited a small group and eventually decided to be baptized (typically by their small-group leader). Soon, they began to lead a small group, followed by branching out to start a few new groups, then coaching small group leaders and finally developing into disciple-making leaders who were ready to join the leadership staff—now made up of former mill workers, former firemen and former business leaders.
Just like Jesus did with his fishermen-turned-followers, disciple-making leaders work to create cultures and support systems that equip and release people to be multipliers.
3. They keep it simple.
The only way to plant and grow a church filled with everyday Christians who are actively making disciples is to make it easy and reproducible.
Before moving to the United States, disciple-making leader Alex Absalom was part of one of the fastest-growing and largest churches in England. Along with missional leader Mike Breen and others, he developed a very simple disciple-making method. Together, they created missional communities (service communities) of 20 to 50 people and then broke out those who were interested in going deeper into smaller groups of four to six people. The small groups became the engine of disciple making.