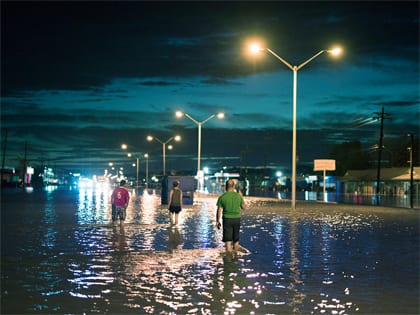 Some opportunities for you and your church to jump in and help those who have been affected by the floods in Louisiana.
Send Relief, the mercy ministry of the North American Mission Board over Southern Baptist Disaster Relief (SBDR), responded within hours to the recent flooding in Baton Rouge and south Louisiana. Four mobile kitchens are each preparing more than 10,000 meals per day for the American Red Cross to deliver, and mud-out efforts are taking place to get residents back home as soon as possible. Hundreds of volunteers from at least 14 states are serving, but the long-term recovery will require thousands more.
Here are five ways your church can help right now. Send Relief: Louisiana Flood will offer new opportunities for service and partnership. Details will be released soon. Learn more and give to support the volunteers at NAMB.net/SendRelief.
1. Pray
The thousands of survivors who are homeless and whose homes have sustained damage need your prayers. First responders, SBDR volunteers, church pastors who are giving aid and the many others helping need prayer, as well. Pray that as they serve, Baptist volunteers and chaplains would have opportunities to share the hope of Jesus with flood survivors and those serving alongside them, and that many would come to know the Lord.
2. Donate
Rather than sending items that may or may not be useful to survivors or flood response personnel, send financial assistance that can be used for the most urgent needs at hand. To aid in SBDR efforts, you can donate to the Louisiana Baptist Convention or to the North American Mission Board.
3. Send
While financial donations give disaster officials ultimate flexibility, certain supplies have been requested by Louisiana Baptist Disaster Relief leaders. Before sending supplies, visit LouisianaBaptists.org and view the "supplies needed" list on the disaster relief page. There is also a list of locations where supplies can be sent or dropped off. Check with your state Baptist convention office to see if they are collecting items to send to Louisiana to assist with flood relief.
4. Volunteer
The church has a great opportunity to meet urgent physical needs and share the hope of Christ with Louisiana flood survivors. You and your church can be part of Send Relief: Louisiana Flood. Visit NAMB.net for more information.
5. Prepare
Be prepared to serve when future disasters occur. Contact your state Baptist convention for information about when they will be providing Disaster Relief training. Once you become certified, you will be called to serve when immediate needs arise, instead of having to wait to receive training.
ABOUT THE NORTH AMERICAN MISSION BOARD
The North American Mission Board exists to work with churches, associations and state Baptist conventions in mobilizing Southern Baptists as a missional force to impact North America with the gospel of Jesus Christ through evangelism and church planting. It accomplishes that through Send North America, a national strategy for mobilizing churches to plant churches and mobilizing church planters and other missionaries to assist with those efforts.
Photo credit: North American Mission Board