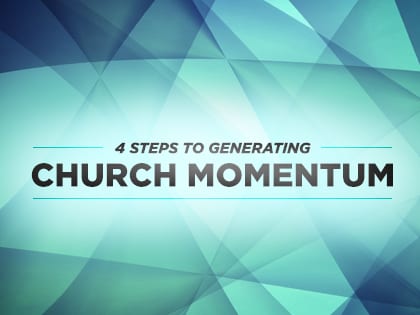 "If your church is slowly growing, struggling or just plain stuck, there is a process that can help you get moving and get growing."
As a leader you want to create and capture church momentum. If your church is slowly growing, struggling or just plain stuck, there is a process that can help you get moving and get growing.
Here's a process you can adapt for you and your church. It doesn't take months of study and meetings to get started. A few weeks of prayer, honest conversation and planning and you are off and running. It's not a race, but it does have an intentional start line.
What is your heart's desire?
It's easy for pastors and other churches to be inwardly conflicted about their true dreams and desires. The church is a difficult place to lead because nearly everyone thinks they are in charge or should be. It's a difficult place for a pastor to live. Fish bowl living, with everyone watching, brings pressures others don't experience. Yet when your heart's desires are aligned with God's heart and desires, (Psalm 37:4), it's all worth it and then some.
The practical application is to be honest with yourself and God about what you really want for your church. In a quiet hour or so with God, a cup of coffee and a journal to write in, you can gain clarity. The reality of who we are and what we want as leaders is not a mystery; the mystery is why we don't get honest about it. What do you want as a leader and for your church?
1. Have a candid talk with your board.
Our founding and senior pastor, Kevin Myers, has led 12Stone Church for 28 years. Some pastors might be ready to slow down, maybe even coast a little. But "PK," as we call him, is more fired up than ever! He wants to reach lost people now more than ever! He was honest with himself and God, and honest with the board … he is all in!
This is the significant question: Is your board and staff all in with you? No matter how fired up and committed you are, you can't lead without the enthusiastic support of your key leaders. In fact, it's more than "support." The idea is not, "Wow, look at the pastor go!" It's, "We're all in this together!" The top leadership must demonstrate full buy-in with their time, personal resources, words and actions.
2. Don't let "insanity" be your church model.
You know the unofficial definition of insanity, don't you? Doing the same thing over and over again and expecting different results. The "crazy" thing is, if that's true I know lots of "insane" churches.
Change is required. Not change for the sake of change, but wise and strategic change that will make a difference. Change isn't comfortable. People will resist it, including the leaders. The truth is, if you make a change and nobody gets upset, you just changed something that doesn't matter! If you are going to get unstuck and get going, change is non-negotiable.
A couple of great books that will be helpful for you:
1. Leading Change by John Kotter
2. Managing Transitions: Making the Most of Change by William Bridges
Make a plan for change, keep it simple, write it down and do it.