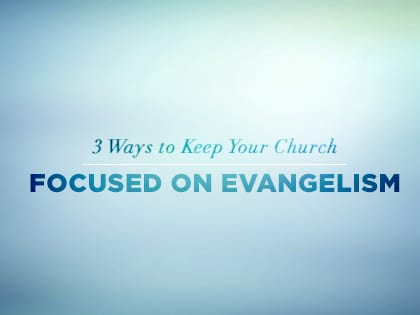 Ed Stetzer: "Keeping a church focused on evangelism is similar to running a marathon."
The idea of a marathon comes from the legend of Pheidippides, a Greek messenger who was sent from the Battle of Marathon to Athens—26 miles away—to inform the Greeks that the Persians had been defeated. Legend has it that Pheidippides ran the entire 26 miles without stopping, and upon delivering his message collapsed and died.
Although there's debate about the historicity of this event, the practice of the marathon is real. According to the 2014 Annual Marathon Report (yes, it's a real report), 541,000 people were classified as "finishers." In other words, 541,000 people who started a marathon actually completed it.
Here's a real simple principle when it comes to completing a marathon: anyone wishing to start and finish a marathon must have what it takes to stay the course.
In the beginning …
Leading a church is similar to running a marathon. For church planters there is much practice and preparation done before the big launch day. They cover a lot of groundwork prior to launching—building relationships, evangelizing people, connecting with community entities, creating communication pieces and attempting to engrain themselves in the daily rhythms of the community. All of their preparation prepares them for the official launching of their church.
For pastors in established churches, often there is a crisis of heart that leads to a more intentional push toward evangelism—preaching, teaching, praying and encouraging the congregation while getting out into the community more. Church members begin to respond by sharing their faith, while lost people respond to the gospel. Organization becomes necessary to keep up with it all.
And let the good times roll!
You can't lead what you don't live.
Being swept up in the current of the aftereffects of a church launch day or revitalization plan isn't bad—in and of itself—unless the busyness and distractions of other important things take the planter's or pastor's focus off a key thing—evangelism.
The question becomes: now that the marathon has officially begun (with the launching of the church, or re-emphasis on evangelism) with the potential distractions, how can we stay the course of making disciples through evangelism?
I have addressed this issue in Planting Missional Churches, which comes out in a second edition later this year (now with Daniel Im as co-author). But, let me list three ways we can stay the course in keeping evangelistically focused.
1. Keep the mission before the people.
Every time the church gathers together for corporate worship, you must remind them that gathering together is not the goal; that the church doesn't exist for itself, but for others. You must remind them—even to the point of sounding like a broken record—that the church exists for mission.
The church was created by mission and for mission.
If the mission stops with the Sunday gathering, then you've created a religious organization, not a church. To protect your church from becoming just another new religious organization, keep the mission before the people week in and week out.
To do so, you can create videos of people who have recently come to know the Lord; you can share personal testimonies of members who have recently shared Christ with someone; you can make baptism a big, celebratory deal; you can create opportunities for the church, corporately, to engage the community in an evangelistic way; and you can recite your mission statement and emphasize how the church doesn't exist for itself but for God's glory and for others' good.
By doing these things you safeguard from mission being placed on the backburner.
2. Carve out time to engage in personal evangelism.
If personal evangelism isn't a priority for the planter or pastor, it will not be a priority for the church. In other words, the planter/pastor must set the tone for the church's passion to engage others in evangelism. Carving out time—on an ongoing basis—to engage in this endeavor is a must.
Raise up a group of people in your church who will oversee the church's outward focus.
Every church leader is busy, and I understand that. I'm busy, too. Show me a pastor who isn't busy in ministry and I'll show you a pastor who pulled up short of the finish line.
Carving out time requires discipline and intentionality.
One of the ways I encourage church planters to discipline themselves to stay on top of personal evangelism is to divide their time into four blocks. These four blocks works well for those in full-time ministry, working 50+ hours a week. The first block sets aside 10–15 hours for administration; the second block is 10–15 hours for ministry; the third is 10–15 hours for sermon prep (if you're a lead pastor); and the fourth sets aside 10–15 hours of evangelism.