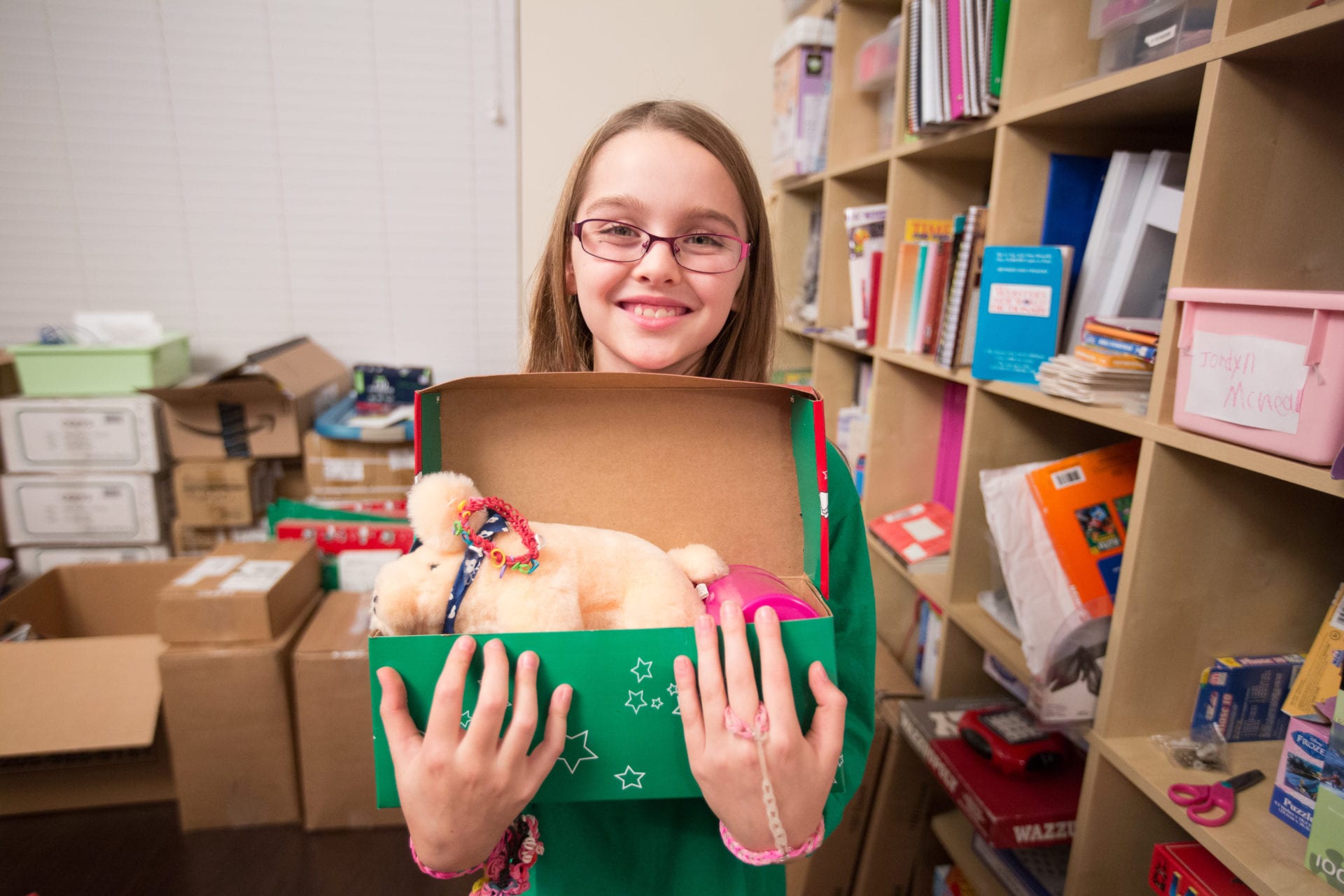 Jordyn McNeal teams up with Operation Christmas Child to give joy to kids around the world.
BOONE, N.C.–Jordyn McNeal is a typical 9–year–old girl—she loves Disney's Frozen. When asked if she would want to have Elsa's powers, she laughed and said, "Yes. But I already have Anna's powers: caring and loving. Those are the most important superpowers of all."
A quick look at Jordyn's website and it's apparent she's been busy with her "powers." Since as young as age 6, Jordyn has been making a significant difference in the lives of others. From sending a 15-year-old brain cancer patient to Disney, to raising $7,950 for Nepali earthquake victims, Jordyn knows that age is no barrier for helping others.
This fall, Jordyn is teaming up with Operation Christmas Child, a project of Samaritan's Purse that will bring joy to millions of children facing difficult circumstances. Many of the gifts collected during the project's National Collection Week, Nov. 16-23, will be given to children in areas where Samaritan's Purse is already working overseas to provide humanitarian relief.
"What makes me most sad is when a child doesn't have a mom and dad, and loses everything they have because of a hurricane, earthquake or war. I don't know what I would feel like if I lost everything I had and didn't have my family. It would make me really sad and upset," says Jordyn. "Giving them a gift would give them lots and lots of joy and let them know people love them!"
Jordyn is personally rallying other youth to help her reach a significant goal: This year, she wants to inspire the collection of 5,000 shoebox gifts. To do this, she's created a youth challenge competition online for groups of kids to fill as many shoebox gifts as possible for children in other countries. These 5,000 gifts will contribute to the worldwide goal of sending 11 million children a message of hope. Jordyn personally hopes to pack 1,000 shoebox gifts.
In 2012, Jordyn called on local businesses and her community to collect toys, hygiene items and school supplies for her Operation Christmas Child shoeboxes. Through hard work and the generosity of others, she collected 30,000 items and filled 1,002 gift-filled shoeboxes. This year, she wants to inspire the collection of 5,000 shoebox gifts.
"If I received a shoebox filled with a teddy bear, toothbrush, toothpaste, hair brush, some clothes and toys after I lost everything, it would make me really, really, really, happy," she says.