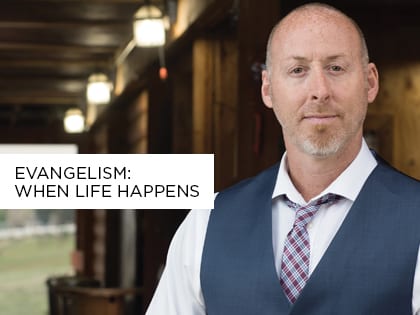 Hugh Halter: "If we don't know somebody's story we're not going to know how to embed the gospel in a way that will make sense."
Steve was the first guy to help unload our U-Haul when we pulled in to our new home in the Denver area. He and his wife Jen were very kind to us. We started to notice Steve came home every day at 4 o'clock. So Cheryl and I bought two white rocking chairs from Wal-Mart, put them out on the front porch and we just committed to always have coffee at 4 o'clock every day.
I noticed Steve had two dogs. He'd get home, let the dogs out of the garage and throw a tennis ball to them. I had two dogs too, same type, Labradors, so I bought some tennis balls so I would have something to throw. I started to throw the ball to our dogs. Jen would come sit in my chair next to Cheryl and over months we became friends.
We tried to do things that would let them know that we cared about them. They started to invite us to hang out with their kids. Steve started inviting me to his poker nights with his buddies and we invited them to dinners and parties.
One day when Steve and I were talking, Jen came out and said, "I have a question for you." She paused. "How do you forgive God?" I said, "Is there a story behind that?" And she started to cry. I said, "Do you want to tell me now?" She said, "No, I'm not ready yet," so I said, "OK, I'll work on your question, but if you ever want to tell me, I'd love to hear it."
A couple months later, when I was with Steve, hearing a bit of his story, she came out and told me the reason she was having a hard time forgiving God was that three days before their wedding her dad was killed in a car wreck.
We talk about the need to be a missionary community. Missionaries know how to get the context for the gospel—context just means the story. So every person has their own context. If we don't know somebody's story I'm not so sure we're going to know how to embed or nuance the gospel in a way that will make sense.
As we talked about that experience they started to unpack how they gave up on the Catholic church. Eventually they just became a part of our community and their whole family found faith through how we were doing Jesus.
Most of the these conversion stories involve a process. Most of them are two-year stories—and hundreds of meals together. When people read our stories, they may think, Well, Hugh's an evangelist. He leads somebody to the Lord every week. It isn't like that. It's just that there have always been people we were praying for, and we were trying to wedge our friends into every second we could, with whatever energy we had.
Hugh Halter, an Outreach magazine contributing editor, is the U.S. director of Forge America, and is the author of several books, including the recently released Brimstone: The Art and Act of Holy Nonjudgment. Our extensive interview was featured in the July/August 2015 Small Church America issue and is available here »