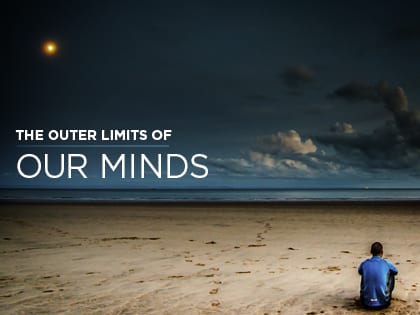 God is not afraid of questions. He likes them. God has given us our minds and we need to use them for his glory.
Halfway through third grade one of my best friends stopped coming to school. We got word that David had a sickness called leukemia. I had never heard of it, but our teacher told us it was very serious.
David never came back to school, he never came out to play again. He died about six weeks later. Since I grew up in a family with no faith and no church connections, I had no framework for what happens to a person when they die.
What I knew was that my dad was very smart and he always had an answer (often a very long one) for any question I asked him. So, I asked my dad if we could talk. I can remember sitting with him in his bedroom and asking him, "What happens when a person dies? Where is David now?"
In that moment my world changed. For the first time in my life, my dad spoke words I had never heard him utter. He looked at me and honestly said, "I don't know." It shocked and rocked me. I thought, "If my dad does not know, then nobody knows."
I shot off spiritual questions for many years. But when I became a Christian, I did so from a very intellectual background. I liked asking questions, using my mind and seeking to understand the Christian faith. I learned, early on, that God is not afraid of questions. He likes them. God has given us our minds and we need to use them for his glory.
As Christians who want to reach the outer limits of our world, we need to be ready to use our minds and invite questions of all kinds. Here are some ideas to help you reach out to people who have an intellectual and academic bent and love to ask questions.
1. Learn to listen well.
When someone is asking good questions and grappling with spiritual challenges, listen humbly and prayerfully. Don't mount a defense; just listen closely. Often there is a story behind the questions.
2. Ask questions.
Don't just try to give answers. Ask for more specifics, ask for what drives their questions, and find out if they have a spiritual framework. Then, listen more.
3. Seek truth, not victory!
Your goal as you talk with non-believers who have lots of questions should not be to win a debate, but to discover the truth together. Be careful that you don't shift into a combative mode. Otherwise, you might win the debate but lose the person.
4. Give the best answers you can.
You don't have to have perfect answers for everything, but do your best to answer questions with kindness and gentleness.
5. Research and keep the conversation open.
If you don't have a good answer, or if you feel there is more to talk about, ask if you can take some time to study, research and continue the conversation later. Then, do your homework and reengage in the conversation when it is appropriate an opportunity arises.
6. Study together.
You can also ask if they would be open to studying the topic with you. If they are, choose a solid biblical resource (book, website, video, etc.) and learn together.
7. Build a bridge.
If they want to dig into a topic you don't know much about, offer to build a bridge between them and someone you know who is passionate and articulate about the topic.
8. Recommend great resources.
There are many very helpful websites, books and resources to help people sort through tough questions of faith. If they don't want to talk more at this time, offer to connect them to resources they can look at on their own.
9. Keep the door open.
If the conversation seems to be ending, let them know that your door is always open and you love hearing their questions.
Kevin Harney is the lead pastor of Shoreline Community Church in Monterey, California, the leader of Organic Outreach Ministries International, and the author of the Organic Outreach series of books and many other books, studies and articles. He is also a regular contributor to Outreach magazine.