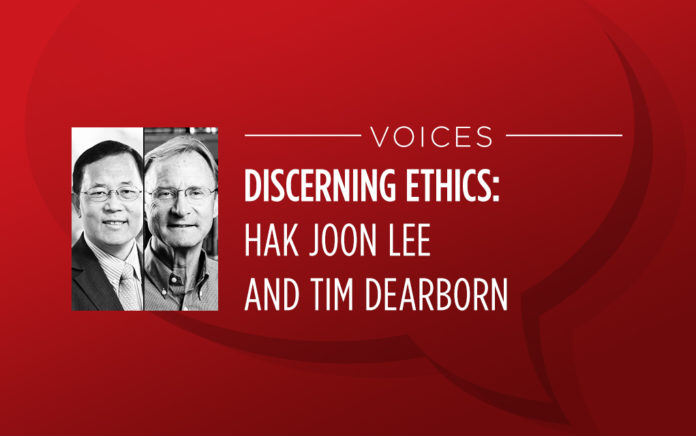 Diverse Christian Responses to Divisive Moral Issues (IVP)
Discerning Ethics: Diverse Christian Responses to Divisive Moral Issues
(IVP, 2020)
WHO: Hak Joon Lee, Lewis B. Smedes Professor of Christian Ethics at Fuller Theological Seminary, and Tim Dearborn, the former director of the Lloyd John Ogilvie Institute of Preaching at Fuller Theological Seminary.
THEY SAY: "We differ in ethical positions because we often understand God's will, read the Bible, and perceive the empirical realities around social issues differently."
THE BIG IDEA: The study of ethical reasoning offers an invitation to the process of self-reflection.
THE PROGRESSION:
Each chapter is written by an expert in that specific field. Each chapter is divided into six sections: Real Life, Real World, Range of Responses, Author's Own Response, Discussion Questions and Additional Resources.
Part 1, "Ethics of the Globe," looks at climate change, poverty, urban degradation and immigration. Part 2, "Ethics of the Body," examines health care, abortion, transgender issues and sexual identity issues.
Part 3, "Ethics of Violence," discusses violence against women, war and nonviolence, gun violence and mass incarceration. The book concludes with Part 4, "Ethics of Formation." Chapters in this section deal with racism, disability, media and education.
"To bridge the gap in our differences and avoid unnecessary and dangerous polarity and conflicts, we need to be self-critical of our own ethical perspectives and our ways of seeing reality in conversation with others."
Order this book from Amazon.com »
Read an excerpt from this book »