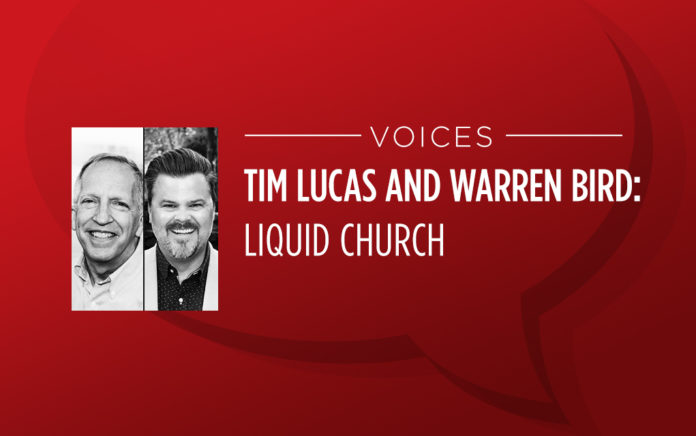 Liquid Church
Outreach Resources of the Year
Leadership
"This wonderful book outlines what Lucas and Bird describe as 'currents,' six powerful ministry trends sweeping across North America. This highly practical resource offers fresh insight into tired models of outreach. The execution in their story is authentic and the principles, when correctly applied, can impact churches of any size."
Evaluated by Greg Ligon, chief innovation officer at Leadership Network.
Liquid Church: 6 Powerful Currents to Saturate Your City for Christ
(Zondervan, 2019)
WHO: Tim Lucas, founder and senior pastor of Liquid Church in New Jersey, and Warren Bird, VP of research for the Evangelical Council for Financial Accountability.
THEY SAY: "The current of the Holy Spirit is already flowing powerfully beneath the surface of your ministry as you take increasing risks to saturate your city for Christ."
THE BIG IDEA: This book tells the story of Liquid Church, how it started and grew, and how lessons from its journey can be applied to churches of all sizes.
THE PROGRESSION:
Part 1, "Living Water Running Wild," introduces readers to Liquid Church in New Jersey and encourages them to get to know the tools that can help grow their ministry.
In Part 2, "Six Currents That Form a Powerful River," the authors dedicate a chapter to each of the six ways churches can reach their city for Christ: Love the Overlooked, Ignite the Imagination, Quench Their Thirst, Unite the Generations, Inspire Generosity and Develop Untapped Talent.
The book wraps up with "Flowing With the Spirit," an invitation to readers to reflect on how their church start a fresh approach to outreach.
"Don't despair if your church feels stuck; God can get it flowing again."
Order this book from Amazon.com »
Read an excerpt from this book »