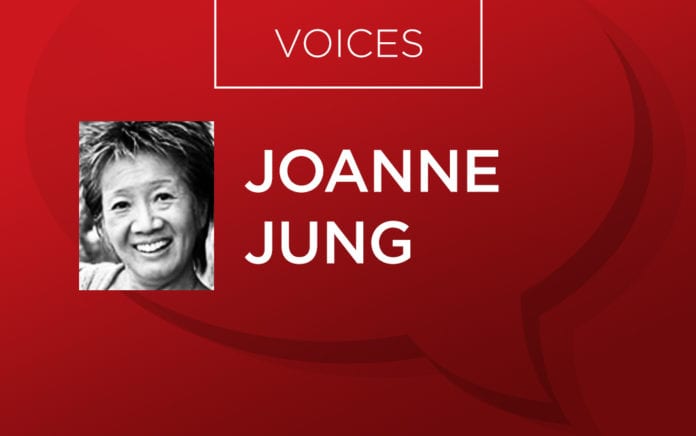 Surprising Lessons in Spiritual Formation Drawn from the English Puritans
The Lost Discipline of Conversation
Surprising Lessons in Spiritual Formation Drawn from the English Puritans
(Zondervan, 2018)
WHO: Joanne J. Jung, associate professor of biblical and theological studies at Biola University and chair of the Talbot School of Theology committee for online learning.
SHE SAYS: "Spiritual authenticity occurs when faith and experience merge. Our lives are the very places where the truth of what God says in his Word meets us head on in the reality of our moment-by-moment experiences."
THE BIG IDEA: The Puritan practice of "conference," or focused, spiritual conversation was intended to promote ongoing transformation. It calls believers to biblical literacy and soul care in a context of transparency and accountability. This book helps readers recapture the art of conference.
THE PROGRESSION:
Part 1, "Rediscovering a 'Lost' Means of Grace," looks at the soul-to-soul aspect of conference, exploring its features and what it can mean today.
Part 2, "Conference in Various Life Contexts," examines small and deeper group conferences, family conferences, marriage conferences, pastor-to-pew conferences and what conferences could be like in our technological age.
Part 3, "Soul-to-Soul Bible Studies: Conferencing Through God's Word," calls the reader to specific Bible passages to study, each of which includes four parts: Ground Rules, Background, Ground Work and Holy Ground.
"Christians are called to enter and continue in this journey of becoming who God originally designed us to become, persons of integrity and purpose so that no matter where we are, the time of day, or who we are with, we are the same person of godly character."
Order this book from Amazon.com »
Read an excerpt from this book »
A 2019 Outreach Resource of the Year—Spiritual Growth Category
"This serious challenge from someone who sees spiritual formation as more than a cliché, and certainly not an individual sport, will make you want to hide your smartphone and strengthen hearts by meaningful conversations."
Evaluated by Knute Larson, an Outreach magazine consulting editor and a pastoral coach and teacher.
A CONVERSATION WITH JOANNE J. JUNG
How can pastors best put the art of conference into practice in their church?
Putting effective conference into practice in the church begins with Christlike humility. Pastors and church leaders must recognize the need for it for themselves. Speaking from their own experiences—of this kind of engagement with trusted others—offers genuine encouragement for others to follow. In this culture it would not take much convincing that conversations between those who are mutually attentive to each other's hearts would have wide-ranging impact. Two elements support healthy conference: growth in knowing God through his word and the desire to care for one another's soul. Well-trained pastors who effectively teach God's word and promote both self-care and extending soul care toward others equip their congregants to exercise and enjoy the conference experience and to reap its benefits.
What does transforming conversation in marriage look like?
Transforming the kind of conversation in a marriage relationship that reflects conference requires a foundational knowledge and dependence on God and his Spirit. It involves ensuring our view of the other is God's view of them. This knowledge affects the why, when and how of the words spoken toward building mutual trust and relational and spiritual depth. Our marriages are to be witnesses to God's faithfulness and commitment, two characteristics reflected in conversations between life partners. It's a process that requires time and a humble willingness.
Competing schedules, clamoring obligations and the acquired entitlement for entertainment have been longtime competitors of meaningful conversation. Two flawed people, especially in a committed relationship, with differing communication styles can be a recipe for frustration and disappointment if it were not for the knowledge and power found in God's strengthening presence. These combat conversation inhibitors while enhancing the desire to know the other and to speak on matters at levels of greatest importance.
How has our sense of independence and individualism impacted our ability to be vulnerable in a community of believers?
Our culture promotes independence and individualism and it results in living our lives autonomously. Our circle of genuine friends is shrinking and the depth of these relationships is questionable. The world is all about "me." A few of the many side effects of this trend include loneliness, a need for image management, and a strong tendency to compare. These cultivate fear and fear robs our souls—our whole beings—of the joy and contentment found in deep relationships of knowing and being known—the "us." We are designed to grow, mature, learn and live in healthy relationships. Vulnerability in community is risky, and we would rather retreat to the comfort zone with self, even though it is lonely there. But the temporary discomfort can be diffused among trusted and caring others who acknowledge the difficulties and are attentive to the hearts and souls of others. That makes it worth the risk.