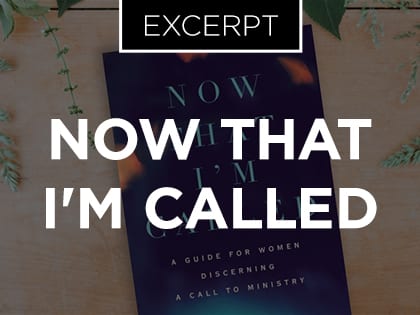 Whether or not women are ordained in a particular denomination, God always provides the means for them to fulfill their calling.
Excerpted from
Now That I'm Called
By Kristen Padilla
So now what? How do we apply [1 Tim. 2:11–15] to the church today? First, we should see that Paul envisions a church where both men and women are active in worship and in prayer. This is a church where both men and women are serving side by side, displaying the glory of God, for the sake of the gospel. Paul envisions a church where all its members are learning in humility to gain the knowledge of God and so that they may in turn teach others. It's a church that is committed to the gospel, one where false teaching has no hold, one where its members are working out their salvation with fear and trembling in the vocations and places to which God has called them.
In Titus 2, Paul tells everyone in the church how they ought to behave: old men, young men, old women and bondservants. At the very end of the section, Paul says they are to behave this way "so that in everything they may adorn the doctrine of God our Savior" (v. 10). This is a helpful lens through which to look at our passage. The instructions to women in 1 Timothy 2 begin in verse 9 with instructions concerning physical adornment and end in verse 15 with character adornment. Paul's greatest concern is that we adorn the gospel of Jesus Christ, not ourselves.
What about these "new" Roman women? First our historical and cultural context always bears weight. When you study any person in history, you will study what's going on in history that can help explain why that person said what she said and did what she did. No one lives in a historical or cultural vacuum, so we must recognize that something is going on in Ephesus and in this church that can help us better understand the situation, even though we aren't given all the details. Second, there is good evidence that there is a movement of these Roman women going against the Roman mores. Therefore, we should bear this historical context in mind as a possible or even likely bridge to understanding what Paul is saying and doing in this letter.
What does this mean for me, a woman called to ministry? First, this passage does not teach that God does not call women to ministry. This passage is not a treatise on women in ministry. Some may say—and you may conclude—that it does, at least, teach us what roles are restricted for women. Yet even then, Paul isn't necessarily restricting women from all ministry. He's very concerned with the situation at hand. If he is restricting women from all ministry, then why does he affirm women for their ministry in Romans 16 and elsewhere?
In addition, this passage teaches that women should and need to learn the gospel. It's important; it's imperative! The question for women who sense a call to ministry is this: Who is going to be equipped to teach other women? We should keep in mind that this passage is set within the context of the Pastoral Epistles, and as such, it teaches us that God calls women to teach, at the very least, other women and children.
When read carefully and in context, this passage should not be viewed as an obstacle to ministry. After working through this passage with a mentor, seeing the variety of possible interpretations freed me up to ask God to show me what ministry could look like within my church tradition. I no longer assumed being a pastor's wife was the only option available to me.
I want to reiterate again that what ministry looks like for you will largely depend on your church and denomination and the Lord Jesus' call on your life. As you seek to apply this passage to your situation, let me encourage you to prepare for ministry by spending time learning. Submit to those in authority over you. Live a life of holiness, humility and modesty, showing respect to our brothers in ministry. Last, but not least, be concerned about the advancement of the gospel. The advancement of the gospel may look different depending on where you are, but like Paul, we should remember that the gospel teaches us to surrender our rights (1 Cor. 9:1–18) and do everything possible to make the name of Jesus known.
Jesus was concerned that the harvest was plentiful but the workers were few (Matt. 9:37–38). Paul, at the beginning of 1 Timothy 2, says that God desires all people to be saved. In Romans 10:14–15, Paul writes,
"How, then, can they call on the one they have not believed in? And how can they believe in the one of whom they have not heard? And how can they hear without someone preaching to them? And how can anyone preach unless they are sent? As it is written: 'How beautiful are the feet of those who bring good news!'"
You do not have to be a senior pastor or preach where men are present to have a call to Word-based ministry. Plenty of gospel ministry work needs doing among women, youth and children. On the other hand, you may be in a denomination or church that ordains women and allows you greater freedom to pursue your calling as a woman in ministry. Wherever God has placed you, if he has called you to ministry, he will provide a way for you to serve. Just as God raised up Miriam, Deborah, Huldah, Mary, Priscilla and other women for unique purposes in salvation history, delivering his word for the people of God, so God's plan for establishing his kingdom includes women. Work to counter false teaching. Teach other women the knowledge of truth. There's so much work to be done, and many have yet to hear the good news about Jesus. God desires workers because he wants the world to hear the excellent news and be saved. If God has called you to be a minister of the gospel of Jesus Christ, he will provide a place in the church for you to serve.
Victoria "Vickie" Gaston has been in ministry for many years, teaching spiritual formation classes and overseeing spiritual life ministries at a seminary. She says, "Women are sometimes reticent to step forward and follow the call of Christ into ministry. It is my hope we all recognize and trust our loving heavenly Father and faithfully understand that to answer the call of Christ is to follow, without apology, his loving lead, no matter where and in what role in ministry he gives us the privilege of serving him."
Tell me more about this book »
Order this book from Amazon.com »
Excerpted from Now That I'm Called by Kristen Padilla. Copyright © 2018 by Kristen Padilla Used by permission of Zondervan. Zondervan.com.