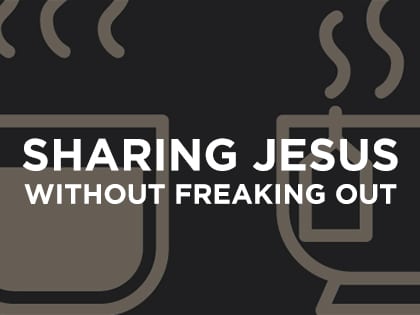 "How can we learn to share Jesus by both word and deed without freaking out?"
I want to take you on a journey to see things afresh. God is on the move in our time, and we owe it to him, to others we influence and to ourselves to be a part of his mission in the world.
How have we created a version of Christianity that makes us freak out over telling the best news in the history of the universe? Why would we get so tongue-tied and introverted when talking about the very thing Jesus came to do for us? How can we sing so joyfully about the gospel in a worship service and then be just as tight-lipped about Jesus in our workplace?
How can we be so quick to speak about a million other things that mean pretty much nothing special but cannot seem to talk about the message that set us free? How can we learn to share Jesus by both word and deed without freaking out?
I have good news. No, this is not a gospelized version of those bogus diet schemes guaranteed to get you to lose weight and feel great with no cost. Following Jesus costs you everything. It's not a three-step quick fix to easy Christianity, and it's not bait-and-switch. It's also not a program to suddenly turn you into the next Marvel superhero version of soul-winning amazement.
Part of the reason believers struggle with this comes from the very way we church leader types have taught people like you to share Christ. Let me say how grateful I am for so many who have taught me so much about telling the good news. At the same time, I've observed some unintended consequences of the way we have often packaged our evangelism training. We must constantly assess the effectiveness of what we do in growing disciples. Despite all the remarkable programs we have in evangelism, a LifeWay study showed 61 percent of evangelical Christians had not told a soul about Christ in the previous six months. The good news is that the younger Millennial generation shows a higher rate of witnessing than older believers. Millennials demonstrate a burden for social justice as well, but according to a recent Barna report, not at the expense of evangelism. More troubling in the LifeWay study is the discovery that out of eight attributes of growing believers, sharing Jesus ranked at the bottom. Why is evangelism ranked so low? Here are a few thoughts as to why, and it relates to how we teach believers to witness.
First, most believers do not consider themselves public speakers. According to Gallup, public speaking is the second-greatest fear of adults (second to the fear of snakes, by the way, although a more recent survey had public speaking virtually tied with a fear of heights as second). Giving a set gospel presentation represents a form of public speaking more than an everyday conversation. This is a reason we've had so many people learn a plan to share Christ but never actually develop a lifestyle of witnessing.
Second, most of the folks who teach evangelism training tend to be aggressive, type A folks (raising my hand, guilty as charged) who share Christ passionately and genuinely want others to as well. But most people aren't wired like that, so it can be intimidating. Imagine you finally decided to get in shape. You go to a gym and hire a personal trainer, and out walks a guy who looks like Arnold Schwarzenegger's muscle-bound big brother. I would feel pretty defeated looking at myself in the mirror and then looking at that, wouldn't you?
Third, I've met too many Christians who tell me some version of this: "I met the Lord and started telling others how he changed my life. Then I took evangelism training and suddenly began to wonder if I was doing it all wrong. So I became more apprehensive than bold." That's not what is intended in witness training, and it's not what we are going for here. That may not be your story, but it's one I've heard far too many times.
Order this book from Amazon.com »
Excerpted with permission from Sharing Jesus Without Freaking Out: Evangelism The Way You Were Born to Do It by Alvin L. Reid. Copyright 2018, B&H Publishing Group.