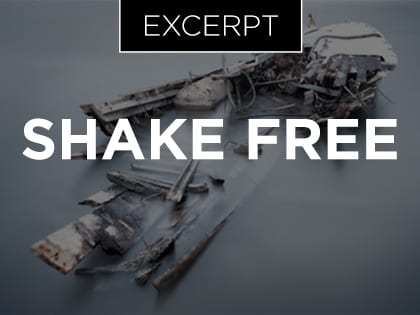 Small acts of kindness and love can bear long-term fruit in others' lives. God has given us the power to influence each other.
Excerpted from
Shake Free
By Samuel Rodriguez
"Pastor Sam!" a male voice said. "You don't remember me, but I sure remember you!" The speaker had recently friended me on Facebook, asking whether I was the Sam Rodriguez who had served as youth minister at a church near Allentown, Pennsylvania, back in the nineties. At first I wasn't able to place the man's name, but after studying his face in the photos on his profile, I recognized him as one of the members of the church youth group where I'd pastored. I recalled him as an angry, troubled teen who attended only sporadically and rarely engaged with me and the rest of our team.
I remembered that his family hadn't attended our church and he'd apparently come to the youth group with friends. Withdrawn and sullen, he made it clear that he didn't believe much of anything I had to say. I couldn't imagine why he wanted to contact me nearly twenty years later, but I responded to his friend request and told him I remembered him.
We then exchanged emails, and this man (I'll call him Mike) asked whether we could schedule a call. I gave him my number, and we arranged a time to talk, but the more I thought about it, the more worried I became. What if Mike blamed me for not pushing through his defenses back then and doing a better job of connecting? What if I had somehow given him a negative impression of who God is and what the gospel is all about? Whatever Mike wanted, I was about to find out.
"Mike," I said, "how in the world are you, brother? How long has it been?"
We spent the next 10 minutes catching up on our lives. Mike shared that he had really struggled back when he attended the church youth group. Reeling from his parents' divorce, he had turned to drugs and alcohol to numb his pain. He even confessed that he was often high when he came to our youth services. His life had continued to deteriorate as he struggled to hold down a job. Two failed marriages and a couple of kids along the way were part of the collateral damage.
"Then one day last year I was moving some boxes in my garage," Mike said, "and found the Bible my mom had given me for my sixteenth birthday. I can't remember ever reading it, let alone taking it to church with me, but I must have, because when I opened it up, there was a note from you that said, 'I know you're hurting. I don't have all the answers, but I know a God who does, and he loves you very much. I'm here if you need to talk,' followed by 'Jeremiah 31:3.' Just out of curiosity, I flipped to that verse. When I read it, I started crying. All of a sudden, I realized that God had always been there, trying to love me, trying to show me the way, protecting me from myself and all the crazy stuff I was into. Well, long story short, I went to church the next Sunday, and that's when I accepted him into my heart as my Lord and Savior."
"Praise God, Mike!" I had tears in my eyes, marveling at God's goodness.
You probably don't even remember writing that note," Mike went on, "but God used it to speak to me and remind me that he has always loved me. I know I wasn't really involved much in youth group, but I could tell that you really loved all us kids. You wanted us to know how much Jesus loves us. Well, now I know."
CALLED AND COMMANDED
I have to confess that I didn't remember writing that note to Mike. During my youth ministry when I didn't feel as if I was getting through to some of the kids, I would sometimes slip a note of encouragement into their Bibles or backpacks. So even though I didn't think I had made any impact on Mike's life, I later discovered that God used a note that probably took me thirty seconds to write as a reminder of his love for Mike.
Regardless of how we express it, we're called to love others the same way Christ loves us. It's curious, too, when I think about it, because often the words, actions and moments that mean the most to other people aren't necessarily the same ones I would pick. But we all have the power to influence one another's lives. And that's the beauty of human relationships within the kingdom of God: We're responsible to love others as we love ourselves.
We can't control how, when, or whether they will respond—and fortunately we don't have to. We're just called and commanded by Jesus to love those around us: "A new command I give you: Love one another. As I have loved you, so you must love one another. By this everyone will know that you are my disciples, if you love one another" (John 13:34–35).
Even though we all need other people in our lives, finding a way to love them with the love of Jesus and to trust God for their well-being can still be a challenge. In his Word, God makes it clear that his desire is that all of us will be in a loving relationship with him: "The Lord is not slow in keeping his promise, as some understand slowness. Instead he is patient with you, not wanting anyone to perish, but everyone to come to repentance" (2 Pet. 3:9). He pursues us just as a shepherd goes after even one missing sheep, relentless in his quest until he brings each lost lamb home.
Sometimes, however, I suspect we allow our relationships with others to get in the way of our faith in God and where he wants to take us. It may be a matter of caring too much about what others think of us or focusing on ourselves when we should be thinking of others. Like Paul on his voyage to Rome, we must allow God to work in the lives of those around us at his own pace and in his own time. We can't save them, but God can!
Tell me more about this book »
Order this book from Amazon.com »
Excerpted from Shake Free Copyright © 2018 by Samuel Rodriguez. Used with permission of WaterBrook, an imprint of the Crown Publishing Group, a division of Penguin Random House LLC.