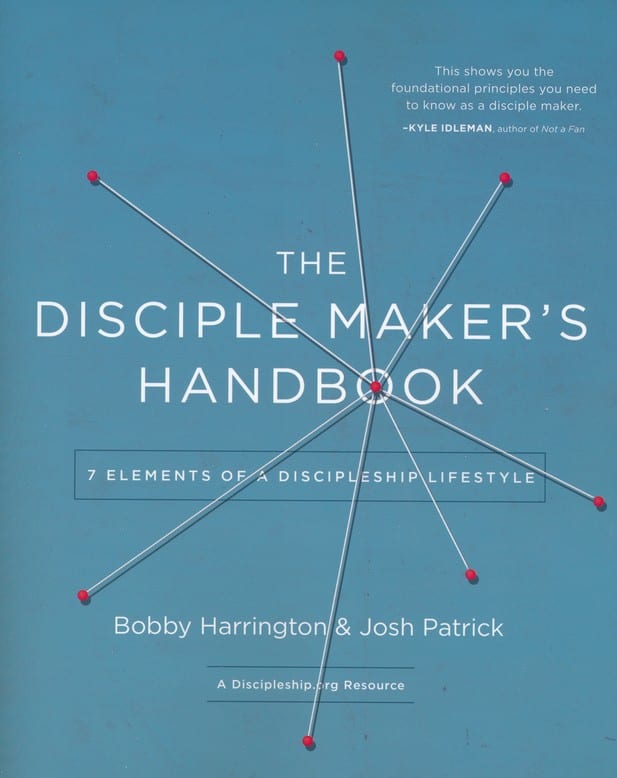 Bobby Harrington and Josh Patrick: Seven Elements of a Discipleship Lifestyle
The Disciple Maker's Handbook
7 Elements of a Discipleship Lifestyle
(Zondervan, 2017)
WHO: Bobby Harrington, cofounder of Discipleship.org and the founding and lead pastor of Harpeth Christian Church in Franklin, Tennessee, and Josh Patrick, the teaching and discipleship minister at Harpeth Christian Church.
HE SAYS:"The only revolution that has eternal implications is the one Jesus launched. When it's all said and done, the quality of our lives will be measured by these two questions: Was I a disciple of Jesus? Did I help make disciples of Jesus?"
THE BIG IDEA:This guide not only builds a framework for discipleship and spells out the foundational principles of making disciples, it also clearly communicates why Christians should be disciple makers.
THE PROGRESSION:
Written in the style of a handbook, the content is present in two parts. In Part 1, the authors set the foundation for the book by explaining why Christians should make disciples, exploring the call to make disciples and giving a step-by-step example of a disciple-making conversation.
Part 2 is divided into seven chapters, one for each of what the authors term elements of a discipleship lifestyle: relationships, Jesus, intentionality, Bible, Spirit, journey and multiply.
The book concludes with two appendices, one describing the DNA of a disciple-making movement and the other offering the best disciple-making practices for planting churches that multiple disciples.
"We believe a renewal of the church is at hand, and the rebirth will come through local movements of disciple making that quite literally change the shape of the church and the shape of the world."
Order this book from Amazon.com »
Read an excerpt from this book »
A 2018 OUTREACH RESOURCE OF THE YEAR—DISCIPLESHIP CATEGORY
"When it comes down to it, our goal as followers of Christ is to become disciples who make disciples. We want to mature to such an extent that we can effectively join God's disciple-making mission as a natural lifestyle. The Disciple Maker's Handbook gives us a clear picture of what that looks like, equipping readers in the seven key elements of a discipleship lifestyle: relationships, Jesus, intentionality, Bible, Spirit, journey and multiplication."
"Although there are many excellent books about discipleship in print, there are not as many practical handbooks. This one should be in your toolbox."
Evaluated by Michelle Sanchez, executive minister of Make and Deepen Disciples for the Covenant. She previously served as pastor of Christian formation and mission at Highrock Church in the Boston area and in leadership for the Lausanne Committee for World Evangelization.