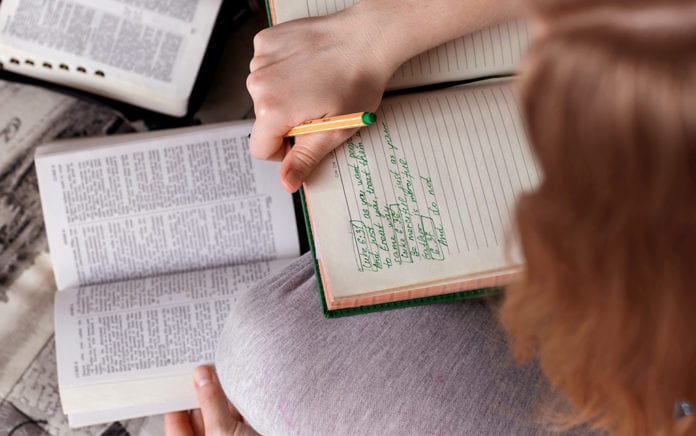 Consider these upcoming releases and tried-and-true favorites.
Study Bibles traditionally have helped readers gain a richer understanding of Scripture. As you immerse yourself in God's Word, consider these upcoming releases and tried-and-true favorites.
The Baylor Annotated Study Bible (Baylor University Press) provides each of the books of the Bible an introduction and commentary intended to immerse readers in the literary, sociohistorical and theological depths of Scripture.
Biblia de Estudio Herencia Reformada Para la Famila y el studio Devocional (Reina Valera 1960) (Reformation Heritage Books/Poiema Publications) includes theological essays, articles on practical Christian living, an overview of church history, creeds and confessions, reading plans, study notes and devotions.
The CSB Ancient Faith Study Bible (Holman) features study notes and commentary from the writings of the church fathers of the second through fifth centuries.
The CSB Baker Illustrated Study Bible (Baker) includes extensive notes, illustrations, maps and articles from leading evangelical scholars to offer a deeper understanding of Scripture and the world in which it was written.
The CSB Heart of God Teen Study Bible (Baker) provides youth with the tools to get to know God better, including book introductions, biographical snapshots and key historical and cultural information.
The CSB Spurgeon Study Bible (Holman) features thousands of excerpts from Charles Spurgeon's sermons, chosen and edited by Alistair Begg. Includes a biography of Spurgeon, study notes, extracted sermon illustrations placed on the same page as the associated biblical text, and more.
The CSB Study Bible (Holman) offers word studies, full-color visuals, study notes and an easy-to-read layout.
The CSB Study Bible for Women (Holman) is edited by Dorothy Kelley Patterson and Rhonda Harrington Kelley, both long-time women's ministry leaders, authors and seminary professors.
The CSB Worldview Study Bible (Holman) features 5,900 extensive study notes and 130 articles by notable Christian scholars.
The ESV Archaeology Study Bible (Crossway) includes study notes, photographs, maps and articles 15 articles like "The Bible and History," "Archaeology and Preaching," "Major Biblical Finds" and "Daily Life in the New Testament Era."
The ESV Global Study Bible (Crossway) features articles by Christian leaders who apply the Bible to global issues, such as the role of government, the nature of the church, world religions, social ethics and missions and evangelism. The notes and maps were adapted from the ESV Study Bible.
The ESV Gospel Transformation Study Bible (Crossway) explains passage-by-passage how God's redemptive purposes culminate in the gospel and apply to the lives of believers today.
The Hebrew-Greek Key Word Study Bible: CSB Edition (AMG Publishers) identifies the key words of the original languages and presents clear, precise explanations of their meaning and usage. Part of the "Key Word Study Bibles" series.
The HelpFinder Bible NLT (Tyndale) connects readers to immediate, helpful answers in the Bible through application notes and an extensive index.
The NIV Biblical Theology Study Bible (Zondervan) includes articles introducing biblical theology and key themes of Scripture. Helpful book introductions are combined with 20,000 verse-by-verse study notes. Previously published as NIV Zondervan Study Bible.
The NIV Starting Place Study Bible (Zondervan) is an introductory study Bible featuring character profiles, study notes and book introductions.
The NKJV Ancient-Modern Bible (Thomas Nelson) has all-new book introductions, articles and commentary. Includes full-color design biographies of notable church leaders sacred art.
The NKJV Single-Column Reference Bible (Thomas Nelson) includes three satin ribbons, a goatskin leather cover and leather art gilding. Part of the "Premier Collection."
The NKJV Study Bible Full Color Edition (Thomas Nelson) has cross-references and features contributed by church thinkers, from Huss to Keller, from Chrysostom to Spurgeon, from Aquinas to Wright.
The NRSV Cultural Backgrounds Study Bible (Zondervan) introduces key Old Testament (Hebrew) and New Testament terms in two reference features. Also includes more than 300 in-depth articles on key contextual topics plus 375 full-color photos, illustrations and images.
The NRSV Wesley Study Bible (Abingdon Press), now available in a new binding, has comprehensive study notes on NRSV text by over 50 biblical scholars.
Combining book introductions, textual notes and maps with application-oriented features focusing on choices and real-life issues, the Teen Life Application Study Bible (Tyndale) helps teens understand and apply God's Word to their lives.
Through Warren Wiersbe's comprehensive system of study and application notes, the Wiersbe Study Bible (Thomas Nelson) features accessible explanations of the Bible's truths and promises.
A Woman After God's Own Heart Bible (Kregel) includes biographies, a review of each book of the Bible's main teachings and devotions.