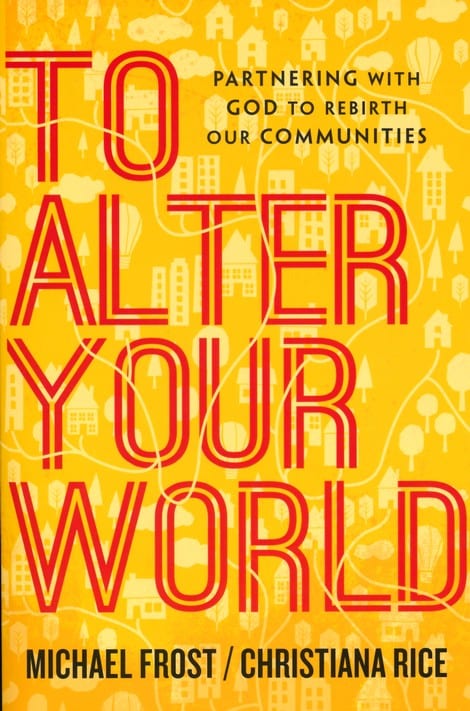 Partnering with God to Rebirth Our Communities
To Alter Your World
Partnering With God to Rebirth Our Communities
(IVP Praxis, 2017)
WHO: Michael Frost, a leading voice in the international missional church movement, and Christiana Rice, an on-the-ground practioner and visionary voice in the missional movement.
THEY SAY: "Coming together as communities of faith and reconciliation, we embody our sacramental calling to be a sign of the new creation God is giving birth to in the world. This is our collective identity. And by it and through it we join God's work to alter this world and to anticipate the next."
THE BIG IDEA: The church can fulfill their destiny to alter their world and be the people God intended for us to be. We can partner in God's work today to help form a new creation.
THE PROGRESSION:
The book begins by showing readers that all creation is groaning, wanting a new world to be born. They then show what obstacles Christians face and how they can overcome them.
Next, the authors present the idea that Christians are like midwives, helping to birth a new creation. They then present different perspectives we can adopt, being changed as we are helping change the world.
The book concludes on a realistic but hopeful note—that we will face disappointment, but we can partner with God as he brings about change.
"God is crying out like a woman in labor, gasping and panting out a different future to the one we currently endure."
Order this book from Amazon.com »
Read an excerpt from this book »
A 2018 Also Recommended Outreach Resource of the Year—Church Category
"This book proposes that the most practical way to change the world is the simplest and easiest way available to you right now. Everything you need to change the world around you is at your fingertips today."
Evaluated by Peyton Jones, church planter, trainer and author of Reaching the Unreached: Becoming Raiders of the Lost Artand Church Zero: Raising 1st Century Churches Out of the Ashes of the 21st Century Church.