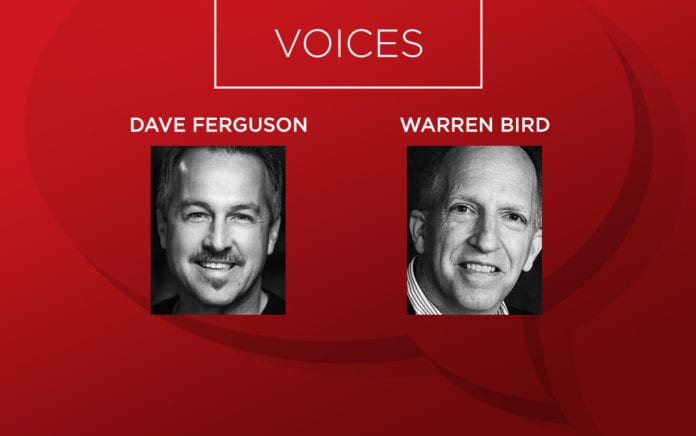 Five Essential Practices for Leaders to Multiply Leaders
Hero Maker
Five Essential Practices for Leaders to Multiply Leaders
(Zondervan, 2018)
WHO: Dave Ferguson, president of Exponential and lead pastor of Community Christian Church in Chicago, and his coauthor Warren Bird, primary researcher and writer for Leadership Network.
THEY SAY: "Everyone wants to be a hero, yet only a few understand the power of being a hero maker—a leader who shifts from being the hero to making others the hero in God's unfolding story."
THE BIG IDEA: Whether you lead 10 people or 10,000, you maximize your leadership when you become a hero maker. In doing so, you will also help shift today's church culture to a model of reproduction and multiplication—God's power and purpose are best revealed when we train and release others, who in turn do likewise.
THE PROGRESSION:
Part 1 issues the challenge to become a hero maker, drawing on the secret of Jesus' leadership success—after all, the church stands today on this foundation of equipping leaders to equip leaders.
Part 2 explores the five essential practices of hero making: thinking in terms of multiplication; creating "permission," and so releasing people into ministry; a pattern of disciple-making that leads us to perceive it as apprenticeship; changing our focus from filling seats to affirming gifts and sending people out into ministry; and kingdom building as opposed to just expanding that one local church—the authors' simple scoreboard.
Part 3 explores the results of creating a culture of hero making in our sphere of influence and presses toward a church-multiplication mindset.
"Hero makers have discovered the secret that results multiply through others and not through themselves."
Order this book from Amazon.com »
Read an excerpt from this book »
Read an in-depth interview with Dave Ferguson »
An Outreach Resource of the Year—Ministry Leadership Category
"This book sees our roles as leaders to be more than just building a great church or organization. We need to work together to encourage kingdom-minded leaders and movements that have the capacity to change the world."
Evaluated by Ron Edmondson, CEO of Leadership Network who previously served for 16 years as a senior pastor. He also has over 20 years of experience in the business world.