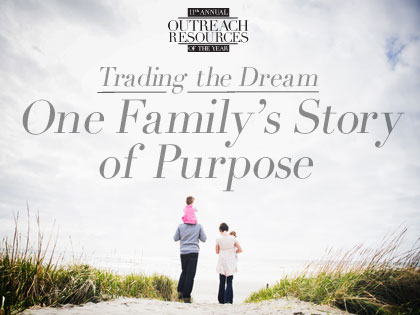 Hilary Alan: "In 2006 we let go of everything that was familiar to us. … Nothing would ever be the same."
Excerpted from Sent: How One Ordinary Family Traded the American Dream for God's Greater Purpose
By Hilary Alan (WaterBrook Multnomah)
A 2014 OUTREACH RESOURCE OF THE YEAR
ANSWER JUST ONE QUESTION
Everyone is living for something. Having goals in life is a good thing, and working hard to make a name for yourself and achieve something big are good things too. That's what the American Dream is all about. Many of us spend our lives trying to have it all, or at least to be seen as having it all.
We crave success. We need significance. Ultimately, we want our lives to count for something, something that matters. But in addition to all that, we would love to gain respect, power, position and prestige—because those are things that help us feel valued.
And then there is money. Whether we admit it or not, we enjoy the things money brings. We love comfort, and we want to feel secure. These are things we build our American lives on.
But what if you were making steady progress in most of the areas of life that bring comfort, security, earthly significance and maybe even wealth, and then you found out that you were doing life all wrong? What if that realization led you to radically change the trajectory of your life? And what if changing your life meant that you would also reroute the lives of your spouse and your teenage children?
That is what happened to my family.
My husband, Curt, and I had a life that most American couples aspire to. We had career achievements, work that fit our talents and interests, two great kids and a comfortable home in an area we loved. We considered ourselves "serious" Christians who were involved in our church and ready to serve when needs arose. It was easy to share what we had, because even after sharing we had more than enough left over. There was no earthly reason why we should start questioning the legitimacy of our lives.
But we did question it, and in seeking answers we changed just about everything that we had looked to for our security, our identities and our places in the community.
Meaning, identity, goals, success. These things drive us, and living in America gives us readymade ways to seek to fulfill these basic needs. What's wrong with driving a reliable car, living in a comfortable home and sending our children to good schools where they can excel academically and shine in the areas where they have been gifted? Aren't these the standards we all reach for?
Curt and I reached for that standard and exceeded it. And having achieved the goals we set for ourselves, we were still asking, "Who and what am I living for? Myself? My children? My career? My income? My reputation? A promotion? A bigger house? A more expensive car? Retirement?"
Maybe you have asked some of these same questions. Perhaps you have achieved far more than we had by age 40. Maybe you achieved these things long before you hit 40. It's possible you are still working hard to lay hold of your goals. Or maybe you have reached a place in life where comfort and security and status and success have lost their luster.
If you have started asking, "What is it that I'm living for?" I hope reading the story of the Alan family from Chapel Hill, N.C., will help point you to some answers. I hope our experience will lead to a shared pursuit of how God is leading his people to fulfill the basic human needs of meaning, significance, identity and success.
Make no mistake. I am not a woman who turned her life around as a desperate response to having suffered deep tragedy. My story is just the opposite. I was living a life that I absolutely loved. I was happy, and I had it all.
Curt and I had surpassed our dreams. I felt blessed. I certainly wasn't looking for a change. Why would I? I couldn't think of any change that would improve on the life we already had. Yet God had a life waiting for me that I couldn't see because I was so intoxicated by my myopic definition of a great life. I was impressed by how well Curt and I had done.