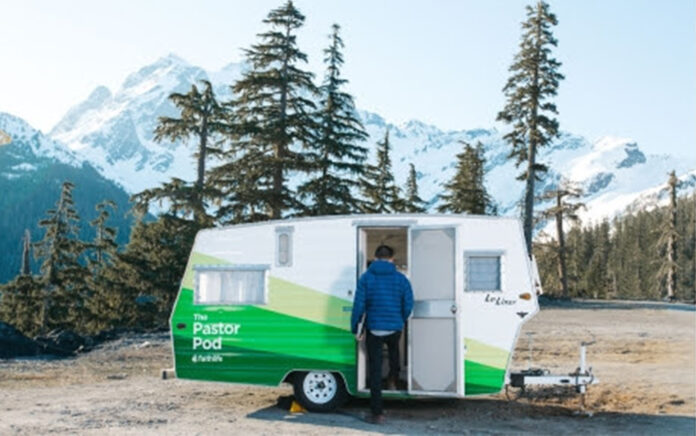 Faithlife will give a Pastor Pod to a deserving church leader.
Faithlife will give one church leader a fully refurbished Vintage 1966 Aristocrat Lo-Liner travel trailer designed as a quiet place for prayer, study and sermon preparation.
Completely renovated with a new interior, the "Pastor Pod" is fully stocked with pastoral resources and mobile, allowing pastors to work from any location whether the woods, the beach or simply the driveway.
The Pod is equipped with a ProArt display monitor on an adjustable arm, a charging station, a Keurig-Mini coffee maker, a microwave, mini-fridge, hot plate, space heater, sink and butcher block surface and a pull-out bed. Additionally, the Pod owner will receive a 10-volume pastoral library from Lexham Press, Logos Preaching Suite, Picturing Scripture devotional and art book, The Proclaim Guide to Beautiful Church Presentations book and a stack of ministry-focused magazines and coffee mugs.
Faithlife will give the Pastor Pod to a deserving leader on June 30. To be considered, simply watch a short video about Faithlife's newest integrated ministry product, Faithlife Equip, and fill out the post-video form.
Enter to win the Pastor Pod at faithlife.com/pastor-pod.