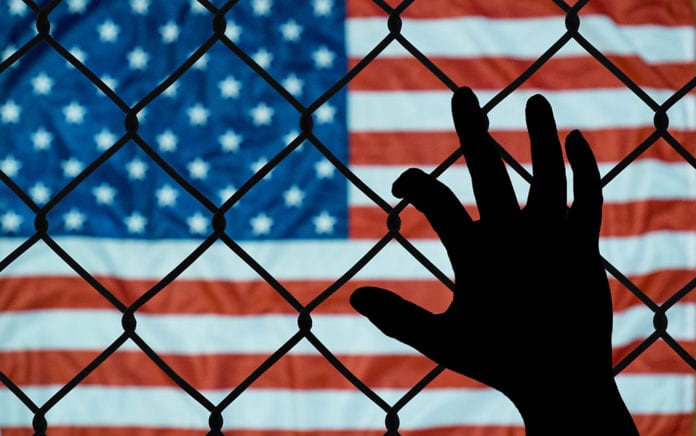 How the church can help our neighbors at the border.
From the author of the forthcoming book Separated by the Border: A Birth Mother, a Foster Mother, and a Migrant Child's 3,000-Mile Journey (IVP, Oct. 2019).
With reports of government facilities not fulfilling basic sanitation needs for children in their care and with the horrifying picture of a drowned father and daughter recently released by CNN, the ongoing humanitarian crisis at the border is magnified once again.
QUESTIONS OF HUMAN WORTH
The question for us as Christians is one that goes beyond the rhetoric of immigration—it is one of humanity. The basic core question we must ask ourselves is where does the worth of a human being lie? Is it in a human being's soul? Should we simply care if these dead bodies had souls that were lifted into an afterlife?
If so—if the worth of human beings if defined only by their eternal salvation, then we can justify bad sanitary conditions. We can justify the death of a father and almost-2-year-old daughter. We can talk circles around family separation. When we concern ourselves only with eternal salvation, we become complicit in state- and church-sanctioned acts of dehumanization. Our American Church history is full of moments such as these.
WILL WE REPEAT HISTORY?
Should the worth of a human being be defined by his or her economic worth? If so, the life and death of a millionaire matters more than the life and death of a poor man. Biblically speaking, the Israelites followed a God of communal abundance—a God of Jubilee. Currently speaking, we Christians seem to follow a god of scarcity. We fearfully decide there's not enough to go around. It's one of the most common arguments I hear about why we should have closed borders. There are not enough jobs. There's not enough land. They are coming and will take away these things—our things. But the God of the Old Testament required the Israelites to make room for the sojourner. Gleaning and Jubilee were necessary aspects of communal flourishing.
Are we serving a different God?
THE IMAGO DEI
We are the followers of Christ. We have a different perspective of both the coming Kingdom and the already existing one. Right at the beginning of creation, we were given the fountain of our worth: the imago Dei. "Come, let us make man in our image and likeness." says Genesis 1:26. Human beings were set apart from the beginning because they, unlike the rest of creation, were image bearers of the Divine.
And when we see death, we mourn, because Christ came to give abundant life (John 10:10), Christ is the Living Water (John 4:14), Christ was life, and that life was the light of all mankind (John 1:4). And when we see unjust death—like the deaths of Oscar Alberto Martínez Ramírez and his 23-month-old daughter, Valeria, who died because "the family from El Salvador was unable to present themselves to U.S. authorities and request asylum."
While asylum seekers have increased dramatically, the Trump administration has also dramatically reduced the number of refugees (these low numbers haven't been seen since 1980) it has allowed to come into the U.S. so much so that many refugee organizations have had to downsize.
So how can the American church respond?
1. Preach the robust gospel of Christ that emphasizes both bodies and souls matter. If bodies never mattered, why would Christ heal so many physically?
2. Watch your language and speak up when others use dehumanizing language. I recently heard a pastor from the pulpit use the term "those illegals" to describe immigrants. This is incredibly dehumanizing as human beings cannot be illegal. Acts can be described as such, but humans are not illegal.
3. Lament. Here is a call-and-response lament written by Matthew Soerens of World Relief. Grieving Our Broken Border is a collective lament by several Christian leaders. A Lament to God for Christ the Immigrant is one I wrote in 2017 when the Trump administration decided to end DACA.
4. There are many faith-based organizations and nonprofits already doing important humanizing work on the border and in D.C. Visit these:
Faith-based nonprofits: Hope Border Institute, World Relief, The Immigration Coalition, Evangelical Immigration Table, Interfaith Immigration Coalition, Catholic Charities, CCDA
Refugee foster care: Bethany Christian Services and United States Conference of Catholic Bishops.
Nonprofits: RAICES, KIND, National Immigration Forum, American Immigration Council, United We Dream.
5. Contact your government representatives at all levels and demand that human policies be enforced. Tell them you are against family separations (that are still happening) and tell them asylum laws must be protected allowing safety for those fleeing persecution. For more ways to advocate, visit World Relief's Call for Families page.
This is not just about almost-two-year-olds who should live to see their second birthday. This is about mothers and fathers and children. The Imago Dei begins at conception and continues through every stage and age of life. We are pro-life through and through because of Christ. We are pro-life for mind, body, and soul because of Christ. We are pro-human rights because of Christ. This is the legacy of the Gospel. We, the Church, are either the bringers of the Good News that Christ came to free the oppressed, give sight to the blind, and set the captives free or we are pawns in a never-ending political game that requires us to twist and sacrifice that Good News for idols that can never give us abundant life.
Read more about immigration and the church in our January/February 2019 feature From 'Zero Tolerance' to 'Welcoming the Stranger' and at OutreachMagazine.com/immigration.
Gena Thomas is the author of Separated by the Border: A Birth Mother, a Foster Mother, and a Migrant Child's 3,000-Mile Journey (available Oct. 29 by IVP). Thomas works at a nonprofit that equips local churches with a theology of holistic development. Connect with her at her website: GenaThomas.com.