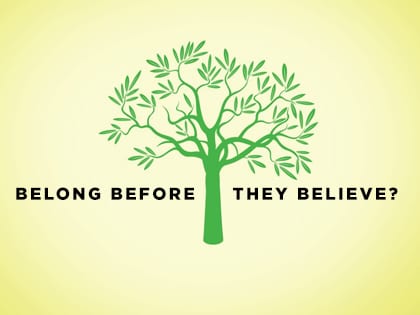 "A church that consists only of committed Christians probably has lost sight of its mission."
In his book Reimagining Evangelism, Rick Richardson coined the phrase "belonging comes before believing." We have found it a useful mantra in encouraging people to dig into community, test the claims of Jesus and see what the good news of Jesus actually does in people.
We're aware that those who hold a high view of church membership are generally uncomfortable with the concept of allowing non-Christians full access to the community, as opposed to a more traditional membership-oriented community where only those who have put their faith in Jesus and assent to the doctrinal statements of the church are allowed true entry.
But we have genuinely felt that the benefits of membership (and they are many) don't quite outweigh the benefits of inviting people into community as a way of discovering Jesus, rather than as a reward for having done so.
When a non-Christian is allowed to be a full participant in a community and get an up-close look at what difference the gospel actually makes in people, he or she is given a front-row seat to the working of the Holy Spirit in our midst.
Yes, you may want to have some sort of covenant or process that you ask people to take part in as they become Christians or want to commit fully to the church, but to say to people who don't yet know whether they want to give their lives to Jesus, "You can't serve here, and your voice will not be heard," is a quick way to shut down the process of their discovering whether or not Jesus is even someone they want to give their lives to.
While we reserve significant leadership for committed Christians, we do allow non-Christians to serve in most any other way; they have played music in our band, led justice ministries they were passionate about and served in the kids' room. This openness has resulted in many people giving Jesus a chance in their lives, and subsequently giving their lives to him.
I remember a time in our early years when we knew that we would have to move our Sunday gathering. We had outgrown the pub space we had started in, and the potential to rent part of a church building came up. We invited the whole community (yes, even the non-Christians) to pray and listen to God for direction as to what we ought to do.
In a meeting where everyone was invited to take part and be heard, we talked at length about the pros and cons of moving out of a more "public" space and into a more traditional church building.
The tipping point in the discussion came when one woman—who probably wouldn't have identified at that time as a follower of Jesus, more just someone who was really interested in him and had a lot of questions—spoke up and said, "I don't think I ever would have come to this community had it been a church building."
I looked around the room and saw many heads nodding; she had put into words the feelings of the majority of people in our church. Moreover, even as a non-Christian, she had reminded us of why we existed as a church: to give people like her a place to explore faith.
We decided to remain in nontraditional, public spaces and still do to this day. And it's been a huge open door to many, many people. I thank God for the presence of that non-Christian in our midst who reminded us of something important.
I once heard Erwin McManus say, "Every truly healthy church has two things: heretics and people who are sexually immoral." To translate, a church that consists only of committed Christians probably has lost sight of its mission and resembles more the "frozen chosen" than the messy community that God has in mind that journeys with people as they discover Jesus.
Invite people to belong to your community even before they believe, and to taste and see whether or not God really is good.
Taken from Ministry Mantras by J.R. Briggs and Bob Hyatt. Copyright (c) 2016 by James R. Briggs and Robert W. Hyatt. Used by permission of InterVarsity Press, P.O. Box 1400, Downers Grove, IL 60515-1426. www.ivpress.com
Order this book on Amazon.com »
J.R. Briggs is director of leadership and congregational formation for the Ecclesia Network, cultural cultivator of The Renew Community in Lansdale, Pennsylvania. Bob Hyatt is the founding pastor of The Evergreen Community, a church in Portland, Oregon, and director of church and movement multiplication for the Ecclesia Network.