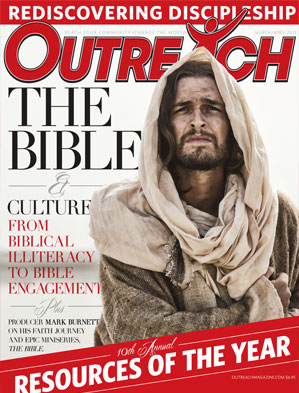 In the March/April issue: The year's best books and media, the story of the BIble, rediscovering discipleship, and the Outreach interview: Francis Chan and David Platt
Inside the March/April 2013 Issue
Multiplying Disciples
"The things you have heard me say in the presence of many witnesses entrust to reliable people who will also be qualified to teach others," Paul said (2 Tim. 2:2). In the Outreach Interview Francis Chan and David Platt call for a rediscovery of such disciple-making discipleship. To be a disciple is to be a disciple maker.
In a culture increasingly apathetic or antagonistic toward the Bible, finding ways to engage people with Scripture is essential to outreach and evangelism—necessary first steps in making disciples. The March/April Outreach approaches the question as we delve into the concept of Bible engagement today.
This issue also presents our 10th annual celebration of the best books and media to help equip you for outreach. Here, then, is essential reading for leaders seeking to make an impact in their community.
Don't Miss
The Story of the Bible
From biblical illiteracy to Bible engagement: There are two kinds of biblical illiteracy. One is not knowing the Bible's facts. The other is not knowing its story.
Open Secrets
God could have conducted unending individual spiritual conferences. But He does not want us connected only to Him; He wants us connected also to one another
Outreach Resources of the Year
Our 10th annual celebration of the best books and media for evangelism, apologetics, cross-cultural ministry and more
Francis Chan and David Platt: The Interview
What does it take to create a disciple-making movement?
ALSO: Mother's Day evangelism tips, Earth Day outreach, discipleship through community, ministry to single moms and more
Plus, in Each Issue of Outreach
PULSE: We take the pulse of outreach today as we report on what churches are doing to connect with their communities.
IDEAS: Church-tested ideas for seasonal and targeted ministries for any church, any size
VOICES: Trends and commentary on culture, faith and thought
COLUMNS: Perspective on outreach from Ed Stetzer, Dan Kimball, Bobby Gruenewald, Brad Powell and Eugene Cho.