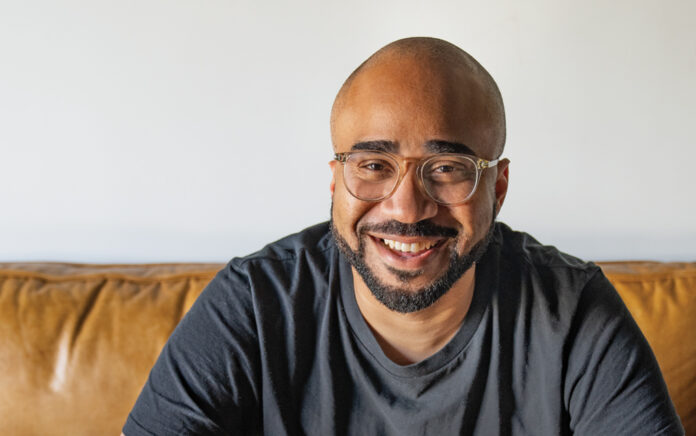 "The very act of the incarnation is a grand gesture of empathy. Before he saved us, Christ empathized with us."
In 2012, Albert Tate and his wife LaRosa planted Fellowship Church in Monrovia, California, which is one of the fastest-growing multiethnic churches in the United States. In addition to this, he hosts the Albert Tate Podcast and Good News Today, a live weekday morning devotional show, and serves as teaching pastor at Willow Creek Church.
Tate also is on the board of trustees at Azusa Pacific University, the Museum of the Bible, Harambee Ministries and the Global Leadership Summit. He is author of How We Love Matters: A Call to Practice Relentless Racial Reconciliation (FaithWords). Written as an honest, aching, sometimes humorous, and insightfully provocative series of open letters, this new book calls Christians of all backgrounds to reckon empathetically and honestly with the divisions that have become so painfully visible, particularly divisions of race.
Outreach editor-at-large Paul J. Pastor caught up with Tate to hear about his journey to ministry, some of the key challenges and beauties of multiethnic ministry and why our generation needs Christians committed to going the extra mile more than ever.
Let's start with your five-minute biography. Where are you today, and what has been your journey in ministry?
This year I celebrate 20 years of marriage and 10 years of pastoring the church my wife and I planted, Fellowship Church. We have two girls and two boys in a wide age range: 15, 13, 10 and 3. There is a lot of prayer and a lot of fun in this household.
I was born and raised in a Christian home in rural Rankin County, Mississippi. I was part of a heritage of ministry. Both my grandfathers spent about 40 years pastoring in rural towns. My mother was a musician at the church where I grew up. My father, a deacon. I preached my first sermon on May 2, 1999. I was 21. So as a young man, I accepted the call to go into ministry.
I began pastoring a small church called Sweet Home Church of Christ Holiness USA in Pelahatchie, Mississippi. On a big day we'd have 14 people. What I say is that we started with about seven and we doubled in size. I was there for about five years. On the biggest days, we'd hit up to 21—I'm talking about my mama, my sisters, my cousins all showing up. When my mama couldn't come, I was like, "What do you mean you can't come? You're the whole praise team, Mama. I need you here."
"The very act of the incarnation is a grand gesture of empathy. Before he saved us, Christ empathized with us."
But the Lord opened doors. Bryan Loritts became a mentor of mine. He heavily influenced me and opened my eyes to a much larger world. He took me to South Africa, and while sitting together in Nelson Mandela Square, we began to dream, because I was wrapping up my time in Bible college. I had been pastoring this small church for about five years, and I didn't know what to do next. Bryan said, "Albert, you should go to seminary."
That statement was a big deal. I had flunked out of high school and had to get my GED. One of the labels that I carried inside was that I was not smart. That I was not an intellectual. That's just not my thing, I'd think. So when Bryan said that, it was something that I could never imagine me possibly accomplishing. I couldn't believe that I was graduating college at that point.
When he said "seminary," there was another guy sitting at the table, who brought up Fuller Seminary in Pasadena, California. Bryan replied, "Well, if you go to Fuller, I used to work at Lake Avenue Congregational Church across the street. I could recommend you."
So the dream that quickly developed over pizza in Johannesburg became a prayer. About six months later, I was accepted to Fuller Seminary and was offered a youth pastor leadership job at Lake Avenue. My wife and I moved to Southern California and served at the historic church for about six years. It was out of the ministry there that the Lord gave the vision to plant a gospel-centered, multiethnic church in Monrovia, California.
You also have had a recent role as teaching pastor with Willow Creek.
After Bill Hybels left, they needed help with that transition. Like so many other leaders, Willow has had such an impact on my leadership. I've learned so much from them. And the church is such a giving church. So when they extended the invitation to help with the teaching, I thought it was the least I could do for a church and for a people that had helped so many people.
Regardless of how you feel about Hybels, the actual church, the actual people, the actual folks who served leaders all across the country and the world, I thought they were worthy of me coming and spending time and pouring into them. Yes, leadership made some mistakes, and there was confusion and a big ole mess, but the people of that church are still worthy of love and a healthy diet of the Word of God. You could just boycott and try to cancel everybody because of some mistakes, or you could really see the people on the ground there in Illinois and say, "You know what? This was your church, and you just served, and you deserve to be served in a moment when you need it the most."
So I jumped at the opportunity. And when Dave [Dummitt] came along as the new senior pastor, he asked if I would stay on and contribute to the teaching team. I look at that role as an honor and a gift. 
Tell me about your early vision for a multiethnic church community. What needs did you see?
In Bible college, I was one of the few pieces of "chocolate" in the room. It felt like nobody was there who looked like me. Having grown up in an all-Black church, it was my first time being in a pretty much all-white Christian setting with brothers and sisters in Christ. I remember seeing the distinct difference in their view and mine, in how they understood their hope and mine.
As I looked at Scripture and saw the oneness of the church, I began to realize that segregation in churches wasn't just happenstance. I began to realize, Wow, this is intentional, even if subconscious. According to what I just learned, we were supposed to live and work as one body, but I remember receiving a full theological education, intended to be the preparation for my classmates and me to go out and start churches, and nothing in our ministry education had ever said to us, "Come together." Nothing in our education said, "Let's do it differently." Nothing in our education said, "Let's create a greater, bigger story for the next generation."
"It's hard to love one another well in Christ if you don't know one another well."
It bummed me out because I was still very much unseen; my culture was very much disrespected and invisible. I remember going through a homiletics class—not one Black preacher was referenced or regarded in a respectable way, other than as the butt of jokes, joking about our charisma or the emotion that we bring to the pulpit. But Black preaching has an incredible heritage. So, to go through a whole class and not have one example? I was saddened and disrespected.
As well, there was an unintentional yet low-key element influencing me to not even appreciate those who discipled and raised me. One of the unexpected consequences of seminary training the way it is often done at many of our institutions is that we send minority students back to their minority churches with a lack of appreciation for the unique cultures and contributions of those churches, because nothing in my theology classes elevated the voices of those Black leaders who supported me.
So my burden for multiethnic ministry started in seminary. Then as I began to serve at Lake Avenue, which was a majority white evangelical church and culture, I began to feel there was a huge opportunity for us to see one another better, love one another better and understand one another better. I had no idea at that time of the hostility toward conversation about race and faith, nor did I understand how incentivized we are in American culture to not come together as the church.
To bridge this with the topic of your recent book, you have worked through these significant cultural dynamics and are advocating a solution we all feel like we know: love. How does love shape this mission of bridging social and cultural divides?
Love is the whole ball game. One of the issues with the conversation about racial reconciliation is that we have jumped to the application without a revelation. We try to jump straight to the application of "reconciliation," but if it is not carried out under the revelation of love, then we are going to destroy one another.
I think that's what we're seeing in many cultural conversations around these tough issues. We're destroying one another. Everyone is coming to the table bringing their fight, but not their fruit. We're not bringing the fruit of the Spirit to this conversation. We're bringing our feelings, our opinions, our defensiveness, our anger. We're showing up, but in all the wrong ways.
Love is not ambiguous. In 1 Corinthians 13, Paul says exactly what that means: "Love is kind." "Love is patient." "Love is not self-serving." "Love seeks the benefit of others."
We can't just make up love as we go along. It takes work. It's hard to love one another well in Christ if you don't know one another well. And then we're held responsible to love according to what we know about one another. So, if you know I carry a burden of racial abuse in my story, whether you agree with everything about it or not, love looks like showing up with empathy. The posture of empathy is not one of fixing. It's not even one of agreement. It's one of love.
"If reconciliation is not carried out under the revelation of love, then we are going to destroy one another."
To be empathetic, you don't have to agree with what I'm crying over. Just think about how many times we bring stuff to Jesus that we're crying over, where he must think, That is not even worthy of your tears. What are you talking about? But that doesn't stop him from empathetically showing up for us. He's not a high priest who hasn't been tempted just like us, to paraphrase Hebrews. The very act of the incarnation is a grand gesture of empathy. Before he saved us, Christ empathized with us.
So I think love looks a certain way, especially when it comes to this application of racial reconciliation. We've got to take a break from our culture's habits of argument and "winning," and simply say, "Let me love you first, by empathizing with the burden that you carry, that I may not understand. Love requires me to sit with you in your pain and suffering, and be here as a sister and brother in Christ." 
Walk me through what the founding of Fellowship looked like with these values. What were some of the waypoints or growth pains?
The first thing is that Christian love must be lived out in real time and community. These values must resonate not just on Sunday morning, but on Saturday night around your dinner table, and all week long.
So when God began to give me a vision that would later become Fellowship, my wife and I began this journey together with just a few other people. Our small group included a Latina woman married to a Black man from Santa Monica, an Asian lady from Laos married to a white dude from Ohio, and a Black guy from London married to a white woman from Pasadena, besides me and my wife: two Black folks from Mississippi. We were sitting down on a regular basis doing life together. Sharing one another's burdens. Praying and interceding for one another's children.
So many of us want to experience this kind of rich, diverse community on Sunday, but if it's not organically happening around the natural ethos of your life and how you live, then you're just setting yourself up to be [disappointed] because you didn't do the necessary "homework" of living what you desire to preach and portray on Sunday. That was the biggest conviction for me: I had to live it out.
As we started the church, we elevated these values, but we knew that we had to invite our people to really live them out. Because when it comes to how a church grows, you may have all kinds of strategies, but at the end of the day, people come, they enjoy it and they invite their friends. Then their friends come and enjoy it. And they invite other people. If our people's friend circles aren't different, then our churches aren't going to be different.
What have some of the challenges been along the way?
Well, there are many I could point to. But one area in which I think I was naïve was to think that the church, the authority of Scripture and the power of community would be the most influential shaping factors among Christians. Unfortunately, I've discovered that on a practical level, those things aren't. Fox News, MSNBC and CNN are way more influential than the B-I-B-L-E. So one of the key challenges has been to call back folks to being discipled by the ethics of the B-I-B-L-E, and not primarily the values of their news outlet or pundit of choice—no matter their politics or background.
And you know, honestly, this has gotten harder in the last two or three years. Like many of us, I've watched what I consider the radicalization of Christianity. It has exposed nationalist/ideological Christians and biblical Christians. We are more highly incentivized than ever to find people who look like us, live like us, vote like us. Find our corner, our tribe, and begin to shout our mantra at the people opposite us. Well, our church is built on us coming to a table. And if God's our Father, that means we are siblings. I have four kids. I care very deeply how they treat one another. And I think that much more, God cares very deeply with how we siblings treat one another.
"If our people's friend circles aren't different, then our churches aren't going to be different."
I have been challenged mostly by forces that incentivize people to stay on "their" corner, to stay stuck in their opinion, to stay perpetually offended. The number of people who get offended and get up from a table [stained with Christ's blood] is incredible. To see someone who has been doing life with other people, laboring with one another, praying for one another's children, and all of a sudden, some Facebook post has caused you now to leave your faith fellowship? All that means is that the gospel in your life is not powerful enough to help you walk through offense.
So there have been challenges. But we have seen tons of fruit as well—all the more remarkable because of those challenges. We've had thousands of people go through workshops on racial reconciliation, seeing it as an integral part of spiritual formation. It is about us living out the vertical and horizontal gospel—love the Lord your God, and love your neighbor as yourself. In order for us to live that out, it really is a big deal to God how we treat one another. We are all called to love people who don't look like us, live like us or vote like us.
Read Part 2 of our interview with Albert Tate where he talks about his book How We Love Matters, the hard work of reconciliation, and what it means to be an "extra mile" Christian.