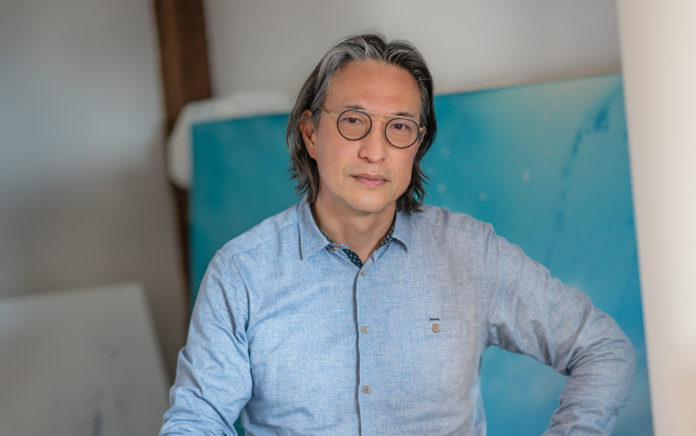 "Could our broken places become part of our signature that will remain, turned to precious beauty on the other side of our own resurrection?"
How Art Points Us to the Center of Christian Community
Makoto Fujimura is a leading contemporary artist whose process-driven, refractive "slow art" has been described by David Brooks of The New York Times as "a small rebellion against the quickening of time." His art has been featured widely in some of the most prestigious galleries and museums around the world. He was also one of the first artists to paint live on stage at New York City's legendary Carnegie Hall as part of a collaboration with composer and percussionist Susie Ibarra.
Fujimura is also an arts advocate, writer and speaker who is recognized worldwide as a cultural influencer. A presidential appointee to the National Council on the Arts from 2003 to 2009, Fujimura served as an international advocate for the arts. The author of several books, including Refractions (NavPress), Culture Care (IVP) and Silence and Beauty (IVP), Fujimura recently added a new title, Art + Faith: A Theology of Making (Yale), which he describes as a book distilling his life's work.
But behind his impressive CV, four honorary doctorates and widespread acclaim, Fujimura is simply and obviously a man in love. He sees his work and his faith as inextricably woven, with love for the Creator and the creation central to his creative process and message of culture care. The sense of patience and honor present in Fujimura's images evokes deep emotion and demands we connect body and spirit to appreciate them fully.
Outreach editor-at-large Paul J. Pastor caught up with Fujimura for a conversation on art and faith, highlighting the power of creativity to both express and inspire the life of faith, especially the power of God's creative Spirit to lead a broken people into the Lazarus culture of Christ's "new newness."
Can you sketch your background for our readers?
My father was a well-known research scientist, a pioneer in acoustics and speech and hearing sciences. I was born in Boston when he was doing postdoctoral work with Noam Chomsky. Soon after, he carried his research to Sweden, where we spent a year and a half, then moved to Japan. There my father was a professor at Tokyo University, the first chair of speech and hearing sciences there. After some time, he was recruited back to the U.S., to the famed Bell Labs.
I came back to the United States when I was 13. By that time, having gone to Japanese grade school, I had lost most of my English. My whole life can be defined by this sense of being culturally bilingual—to write anything, let alone a book, seems so miraculous to me because I've never felt like a master in any language. That's part of the reason I felt so drawn to the arts, especially visual art—it does not require mastery of any one language.
I went to middle school and high school in New Jersey, then to Bucknell University, where Tim Keller went as well. Liberal arts studies—although I went in as a science major and came out as an art and science double major. It was a formative time.
After college, I decided I wanted to make a go at being an artist full-time, which, of course, felt crazy. But I really felt called to do this. So, I went back to Japan and received a government scholarship to study at a very prestigious lineage program in Tokyo, through the Tokyo University of Fine Arts. I was very fortunate—I am still to this day the only "outsider" who's ever been admitted to this lineage doctoral-level program, which harkens back to the 15th century. I studied under the masters directly, and had access to temples and museums. I was very much drawn to the 17th century art aesthetic of Nihonga, which is a unique Japanese-style painting using traditional materials, mineral pigments, gold and silver, or styles of calligraphy ink from way back.
My intention was to eventually apply everything I learned there to contemporary art. It was in the process of my studies that I became a Christian. Kind of an unlikely way to find Christ, but as I write in Silence and Beauty, God had a purpose for all this. There was a very distinctive, hidden, cultural Christianity in Japan that is, in a sense, very pure. I was able to encounter that tradition through my studies. This became the basis of my faith.
"Could our broken places become part of our signature that will remain, turned to precious beauty on the other side of our own resurrection?"
I had married my first wife out of college. When I came back to the U.S., we had two children then, and one on the way. We moved into New York City, got involved with Tim Keller and Redeemer Presbyterian. We helped with Tim's efforts, not just Redeemer, but also the City to City projects, working to expand church planting movements.
As it turned out, we had moved into what would soon become Ground Zero. Five years later, we were severely traumatized by 9/11. Then, we just … burned out. My wife could not recover from the trauma of 9/11. So we moved out of the city to Princeton, New Jersey, where I live now, and settled down into a three-acre farm and started to work here, painting and writing. We had a good three years, I would say. It felt like things were turning the right way. But then, all of a sudden, my wife couldn't, you know, continue. She had to sever completely from the past. She left suddenly.
My father passed away a month after that, and my mother a year after that. I went through about three years of terrific darkness. But so much was accomplished in that darkness. It was one of the darkest periods of my life, and yet there was redemption in it. I found a beloved community in my fellow's program that I started, with five students whom I got to work with. They kind of became my family during that time. Some of them were helping me in the studio, as visual artists. And in that period I began to do work that became very much part of my seminal work of recent times, responding to various traumas, from 9/11 terrorist attacks to the 3/11 earthquake and tsunami in Japan, to the Columbine High School murders.
I was simply trying to work this all out into something that could become beautiful. Much of it was just sheer effort to understand my own heart, to face the Ground Zero reality in front of me directly, but with the kind of passion I've always had—believing that art can actually become a voice of healing in the fractured places. I found myself creatively during that time—even though some of the paintings from that period I don't remember painting, because I had completely dissociated. But they are evidence of my journey, and very important.
I've since remarried—my new bride is an attorney working with Embers International to advocate for vulnerable people being trafficked. So now here I am back in Princeton and continuing to work. My recent book, Art + Faith, was really my life's work of thinking biblically through not only the relationship between art and faith, but how I read the Bible, assuming that God is, as I say in the book, the only true Artist, who invites us to be artists with a small "a." Nevertheless, his invitation is one of enormous potential. God desires that we partake in creating the new. It's an astonishing promise.
This kind of gospel theology flows—influenced by Tim Keller's teaching as well as N.T. Wright's, and all these people and institutions I have been privileged to journey with in the arts and culture care.
You mention the "fractured places." Immediately my mind goes to the beautiful art of Kintsugi—as seen in repairing broken pottery with gold and fine lacquer work—which you reference in the book. The "mending that leads to making," you say. The "new newness." Tell us more.
Kintsugi I have known because it is connected to tea ceremonies and tea culture, which is at the heart of Japanese culture. Kintsugi works with the concept of taking something broken, worn down or rusted and seeing that as beautiful—the concept of wabi-sabi, which has influenced Japan's very subtle, sublime aesthetic. Contrary to the prevailing Western aesthetic, which seeks perfection and hiding flaws, Japanese artists have always said that things are imperfect, and that's why they're so beautiful.
Take, for example, what I call fumi-e culture. Fumi-e are the stepping blocks that the Japanese shogunate used to persecute Christians when our faith was outlawed in Japan. They were images of Christ meant to be stepped upon to show that one was not a Christian. But in that process, the fumi-e was worn smooth. That in itself captures something about Japanese culture. Kintsugi is similar. It soothes a broken fracture by accentuating it, making the resulting mended object more interesting and valuable than the original. It's literally a new creation, and I think it is as much theological work as it is aesthetic work. It may not be intentional, but it is one of the evidences of faith culture that I find in Japan all the time.
I met a kintsugi master in Tokyo named Kunio Nakamura. He is an antique dealer who took up kintsugi and became a master. But after the 3/11 tsunami and earthquake disaster in Japan, he wanted to do kintsugi with orphaned children in northern Japan, but he had to come up with an authentic but unique method of doing it. Traditionally, kintsugi is a Japan lacquer tradition, which is notoriously difficult to master. It takes at least five years to learn to use the Japan lacquer, and because it is made from poison sumac—like poison ivy—there's a portion of the population so highly allergic to it that they can't handle it.
But Kunio Nakamura came up with this method of using a cashew-based urushi lacquer that is safe for children to handle. He literally packed a medicine bag full of these tubes and putty that he got from a dentist friend and travelled to northern Japan because he felt that whatever he could contribute, it would not be enough for him to do kintsugi for these children who lost their parents and grandparents. They would have to learn to mend fractured valuable objects themselves. That is his heart. I was very moved by what he was doing. He's not a Christian, but he has signs of the Spirit's signature—God's fingerprint on him. I got to know him, and we began to journey together. I brought him over to the U.S., to Nashville, New York, here in Princeton and even to the Sundance Film Festival, because I was being honored there by some colleagues and doing a film on art and faith.
We kind of began this journey together. I started Kintsugi Academy as a result, as a way to foster his vision to spread kintsugi to the world. And boy, we did not anticipate 2020, or the fractures and pain we're going through right now in this nation. It was exactly the message that we need. Kintsugi has now become so much more than this traditional Japanese form—it has become kind of a movement of mending to make new, which hopefully becomes something that will help people find healing.
That concept is so central to the gospel—so beautiful because it is so true. Speak to that theologically for a moment.
The key theological connection is the body of Jesus after his resurrection. Thomas said he wouldn't believe until he touched his nail marks, and Jesus shows up in bodily physical form to show him the wounds. Thomas saw but didn't need to touch. He's the first recorded disciple to kneel down and worship. That is a very significant post-resurrection detail. Jesus did not become a superman. He remained a vulnerable human being, whose deadly wounds became part of the signature of who he is, his identity. And through his wounds, we are healed. Therefore, as N.T. Wright notes in his book on the resurrection, God chose to be human after the resurrection. That's a remarkable reality of the new creation.
What does that mean for us? Could it be possible that our wounds are treated in a similar way—sanctified by Christ's sacrifice for us? Could it be that his fractures allow us to enter into the new—into the mending of our fractures? Could our broken places become part of our signature that will remain, turned to precious beauty on the other side of our own resurrection? Even our fractures can be made new, and through what we have experienced, God will somehow renew the world. I don't understand it fully, but it is one of the most powerful ways that we can see our role on this side of eternity.
"New in Christ is not like an iPhone becoming a new iPhone, but it is categorically new—it is 'new newness.'"
In the book, I talk about the difference between the "plumbing theology" of just fixing the world, and trying to move toward a theology of new creation, which means to really understand what it means to be made new in Christ. New in Christ is not like an iPhone becoming a new iPhone, but it is categorically new—it is "new newness." It really is a dramatic shift from how we view ourselves and how we are to love the Christian life. Like C.S. Lewis writes at one point, we are not horses being trained to jump higher and higher hurdles, but we are horses with wings. That's the gospel vision. It seems too good to be true if you really hear it right. But that's exactly what the Bible is offering out of God's love for us.
In Part 2 of the interview, Makoto Fujimura discusses the importance of creating art that is fruitful, tapping into our sanctified imagination, and how to help our people along the journey of becoming the artwork of God.