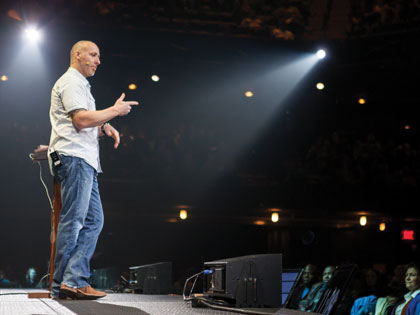 Hugh Halter: "The goal is not that you have incarnational people, but incarnational communities."
Interview by Jessica Hanewinckel
Since the word 'missional' is now co-opted to mean all sorts of things, the word that needs to be inserted with it is 'incarnational.' Mission just means to be sent. Incarnational is how we are sent, or what we do as we go.
If a church is doing incarnational ministry, they're moving beyond a program. A church could have a missional emphasis, where they might serve the poor or take up some mission to a local elementary school or a homeless shelter or something like that. But that would still be more programmed. When it's incarnational, individual people are taking on that mission themselves. It becomes an intuitive part of who they are.
I've found people don't really hang out with people unless they get a heart for them. The only way you can get a heart for a person is to kind of force yourself to be with them. Jesus teaches us that wherever you put treasure, there your heart's going to be, and it's not just about money. It's literally, for a while, forcing yourself to walk across the street and meet a neighbor, or walk into a part of town where people aren't just like you, and you'll start to get a heart for them.
If a Christian couple comes into Adullam and they say, "Hey, we heard about you guys," I usually ask them, "Why'd you come?" And what they usually talk about is just the spiritual emptiness they've been feeling. They haven't seen God's power, they're bored, and so I go, "Hey, come with us for you. It's about what God's going to do in your heart, how he's going to expand your understanding and experience of the kingdom." And if I put it in a spiritual formation or discipleship grid, it seems like people always want to do it. If I make it about reaching the lost, 10 percent are going to want to do it. So I wouldn't even bring up evangelism. Just know it's going to happen naturally if your people learn to be incarnational.
We've always tried to balance being gathered with being scattered. There were two years where we would gather for corporate worship every other Sunday, and the off weeks would be for the communities to go engage and be together. Right now we do three Sundays on, one off. We want to let the congregation know church isn't just a Sunday thing.
Sometime over the weekend we want them to throw a party just to be with people who are not Christians, or find some way to serve people together, and to get together and spend time in Scripture and pray for each other. When we give them permission and time to do that, they're much more likely to. And God brings needs to them, and then they meet them together. They start to learn the Holy Spirit is guiding their community. That's honestly where we've had most of the conversion stories and excitement among believers, where they know it's not forced, where they know God is actually leading them month by month as a community.
The goal is not that you have incarnational people, but incarnational communities. Eventually that leads to an incarnational church.