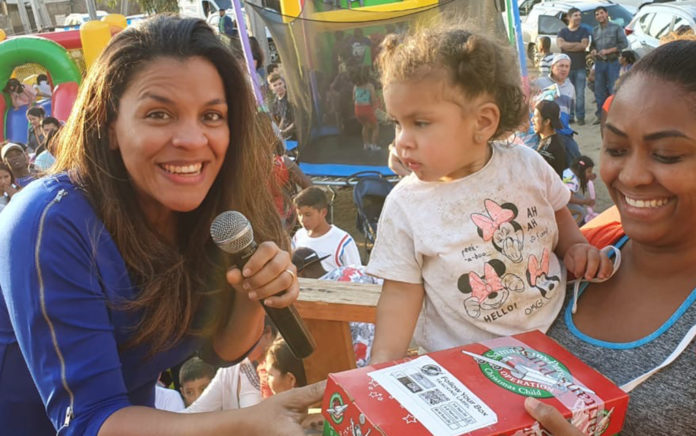 A morning show host shares how her faith informs her work.
Haggai International trains strategically placed leaders to share the gospel with the people in their spheres of influence with the goal of "ending gospel poverty." Kenia Santana is one such leader who has come to see her work in media as a conduit for the gospel. Her story is below. For more of Outreach Magazine's coverage of the integration of faith and work, visit OutreachMagazine.com/faith-and-work.
Kenia Santana's life has taken her on a roundabout journey to her current role as strategist and host for Television Nacional Evangélica in Chile. She grew up in the Dominican Republic, and from an early age she began sharing the gospel on the streets with her grandmother and on her father's Christian radio program. Reaching out through media has been a part of her life's work ever since.
She began her career as a dentist, a role she fulfilled for 28 years. At the same time, she hosted radio and TV shows where people would call in and ask her dental questions, and she would take opportunities to share her faith over the airwaves whenever possible.
"I used my experience in radio and TV for ministerial purposes," Santana says, "but it was just a hobby."
That changed in 2008 when she attended leadership training in Singapore with Haggai International. During her time in Singapore, Santana stumbled across 2 Kings 2:19–22, the story of Elisha miraculously purifying the water of Jericho with salt.
"While reading, the Lord spoke to me and said those springs, those rivers, those waters are the media outlets," Santana says. "Jesus asked us to be the salt. I am meant to be the salt in the springs of the communications industry; to heal the community with the Word of God."
So when she later returned to the Dominican Republic, she got a segment at a local Merengue Bachata radio station. "I decided to go to the radio station because nobody else was going to talk about Jesus on that station," Santana says. "I would come to people with a party spirit, but present God's point of view."
She had a short, 3-minute segment on the radio station she called "What God Said" where she would share a story or tale about something, ending each session with what God would say about the topic. It became one of the most popular segments on the station and people would call in to get them to replay it each hour.
When she moved to Santiago, Chile, in 2013, she could no longer practice dentistry, so she got a job at the national Christian television station Televisión Nacional Evangélica (TNE) as a strategist and host of their morning show. On the show, she talks about the socio-political and cultural issues of the day and weaves in God's perspective.
"As a communicator, the most important thing is to make myself understandable. If you present everything with a religious wrapper, people are going to reject it," Santana says. "So I try to present every answer from the heart of God in an understandable way, contextualized for a non-Christian audience. I feel like an interpreter of God, giving his answers to the rest of the world."
Shortly after Santana moved to Chile, one issue came to life for her in a powerful way. The nearby Colina immigrant camp suffered an accidental fire in the middle of the freezing Chilean winter. When Santana visited, she was shocked by what she saw. Dominicans, Haitians, Venezuelans, Mapuches (an indigenous people group of Chile), and people from other Latin American nations were huddled together, sleeping on the floor. Several people had family members who were trafficked or raped by unscrupulous people promising them safe passage. One boy had lost a leg to a land mine. Many of the children didn't have shoes—or parents. Due to a lack of employment opportunities, many of the children's parents were in a nearby prison for drug trafficking or prostitution.
"It was torture for me. I asked, How can it be that I live in a comfortable place while these people are all sleeping on the floor? How can they survive in these conditions?" Santana says.
So she worked her connections at TNE and was able to rally friends, The Salvation Army and other Chilean institutions to gather pillows and blankets and reach out to the immigrants. She then raised awareness through her morning show to warn people about the conditions and the people who might try to take advantage of them if they emigrated from their native countries in search of a better life. In the following months, she helped establish a tent church that has seen around 25 people be baptized, and she has spearheaded regular outreach efforts to the camp.
When Santana reflects on the roundabout route her life has taken her—from dentist in the Dominican Republic to morning show host in Chile—and the opportunities her work has given her to reach so many people, she sees the hand of God.
"Jesus called us to be influential in every place where we are sent. We go to church once a week, but we are God's children every moment of our lives," Santana says. "We are instruments in the hand of God to transform our communities. How you manage your entire life—every second—has to be for the glory of God and the establishment of the kingdom of God around you."
For more, visit OutreachMagazine.com/faith-and-work