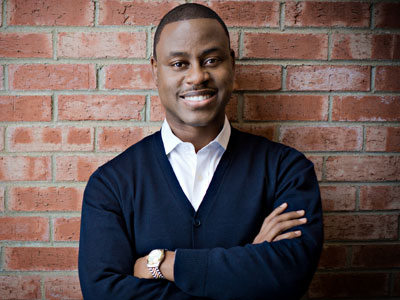 The senior pastor of an iconic, historic, multiethnic and multigenerational church, Fellowship Missionary Baptist Church, Chicago
CHARLES JENKINS is the senior pastor of Fellowship Missionary Baptist Church in Chicago, an award-winning songwriter and author of Thriving in Change: Ten Principles to Help Leaders Navigate the Opportunities They Face
CONNECTION TO OUTREACH MAGAZINE: Jenkins was the featured interview in the May/June 2012 issue and was identified in the September/October 2011 issue as one of 30 emerging influencers reshaping leadership.
CHARLES SAYS:
On how music influences his leadership of the church: The arts and music in particular are huge parts of who I am as a person. I think the arts as a part of ministry engages people intimately in a picturesque way. So for me, the arts are both huge and a big deal. Zig Ziglar says we get 85 percent of our information through sight. And at some level or another, everybody engages in the arts—we sing at home; we dance at points, even if it's bobbing our heads; or sometimes we speak in prose. And as a culture, we're infatuated with Hollywood, acting and actresses. So for me, it's a tool God uses to bring glory to Himself. … The key to the church in this cultural time is to embrace the message, but don't be married to method. What the church has learned and has to break away from is methodological idolatry. We worship methods and we worship traditions, sometimes more than we do the actual Creator. We put more emphasis on the packaging than we do the purpose or even the content. I'm able to get at people with poetry who I might not be able to get at with a sermon.
On using his entrepreneurial spirit to help others: I started a business incubator for nonprofits, called Good City, this year. It looks to go into the toughest neighborhoods and help the poor, the less fortunate, the desolate, with their tough problems, social ills or just significant needs. Good City marries social good and social entrepreneurship. It marries problem solving with creating good—or should I say, creating jobs.
The nonprofit sector is the third largest workforce base in America. So we do start-ups; we construct strategies for pre-existing nonprofits; we do training and mentorship; we do leadership development and executive coaching. We also do board development and fiscal management. In a holistic manner, we want to serve the city of Chicago with great depth and significance.
On The Legacy Project, a $20 million dream for a center where people can worship, work, learn, eat and receive health care, counseling and rehabilitation—and serve others: There's a passage in Isaiah about being a builder of the breach, a repairer of walls. We want to address the desolation and destitution that exists; the deficit of quality educational support systems; the lack of amenities, goods and services in a community. … While we definitely want to serve the children in need in Third World countries, we don't want to reach over the heads of children in our own neighborhoods experiencing poverty and broken homes. My mother taught me charity begins at home.
On God calling him to preach when he was 15: I was also wondering if God was calling me to preach the Gospel, so I prayed, and the Lord put on my heart not to audition [to dance on former rapper MC Hammer's tour]. The Lord said, "If you [join the tour], you'll go on stage for you. But I want you to go on a stage for me."
[Soon thereafter] "I was reading my Bible, I went to go to bed, closed my Bible, and something said to open it back it up. I put it on the dresser, turned the lights off, turned the fan on—and as I got all settled in, the fan is blowing the pages of the Bible—sh, sh, sh, sh, sh. Something told me to turn the light on and look at the Bible, and the page it landed on was Isaiah 61.
The Spirit of the Sovereign LORD is on me,
because the LORD has anointed me
to proclaim good news to the poor.
He has sent me to bind up the brokenhearted,
to proclaim freedom for the captives
and release from darkness for the prisoners. (NIV)
On honoring his predecessor and mentor, the Rev. Clay Evans: The Bible says give honor to whom honor is due, and I would be just a total loser without him. He's iconic, he's a genius and he is a 21st century church father. It has been spellbinding to sit at his feet, to have access to his wisdom, to learn from his experiential leadership.
HOW TO LINK: Connect with Charles at Fellowship Missionary Baptist Church, CharlesJenkins.com or on Twitter.
GOT A COMMENT OR QUESTION? Post a comment on this page or send an email.
Each issue of Outreach is designed to bring you the ideas, innovations and resources that will help you reach your community and change the world. Check out our current subscription offer »