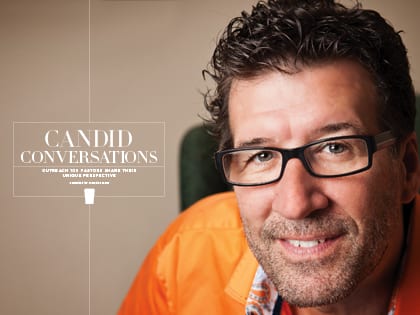 "My greatest concern is that churches are hanging on to tradition and losing the power of the gospel."
Each year, we speak with several Outreach 100 pastors in an effort to collect their honest observations about the church, their ministries and their experiences. 
CHRIS STEPHENS
Faith Promise Church in Knoxville, Tennessee
Through great mentors, I learned early on to build barriers to protect me not only from falling, but even from the perception of falling. Secondly, I've learned to develop a strong accountability system. Your life must be an open book. The third thing that I do is make my time with God my No. 1 priority. If you don't do ministry out of the overflow, you will end up being sucked in by the undertow.
Most pastors say they don't care what people think, but it's rarely true. This is a constant battle for me when stepping in to hard areas and difficult topics, but at the end of the day I want the favor of God, so I choose to do what I know will bring criticism.
Praise can be even more difficult to handle. Proverbs says that we are tested by the praise that is afforded us. I learned to celebrate and say, "Thank you," when I'm given praise. But at the end of the day I give that bouquet back to the Father.
My greatest concern is that churches are hanging on to tradition and losing the power of the gospel. It you look at the list of the 100 Fastest-Growing Churches, very few are traditional in nature. I have been blown away by how many pastors and church members fight to maintain tradition instead of fighting to win the lost at any cost. Jesus never defended tradition but did anything he could, up to and including giving his life away, to reach people far from God.
What excites me is the massive church planting movement in America and the next generation of young spiritual leaders. Groups like the Association of Related Churches (ARC) are planting virtually a church every day, and those churches are thriving. With the advancement of technology there has never been a greater opportunity to get the gospel out to the four corners of the compass.
The American church experience is the same as a generation ago, since more than 90 percent of churches in America have plateaued or are declining. Most of those have not changed in the last two generations—same building, same pews and the same sweet, little old lady playing the organ. You can't put new wine in old wineskins.
I see the church planting movement evolving in creative new ways to reach people for Jesus. I see it jettisoning worn-out methods and 20th-century systems and strategies to reach a generation far from God.
Read more Candid Conversations with Outreach 100 pastors »
FAITH PROMISE CHURCH
Knoxville, Tennessee
Twitter: @DrChrisStephens
Website: FaithPromise.org
Founded: 1995
Affiliation: Nondenominational
Locations: 6
A 2016 OUTREACH 100 CHURCH
Attendance: 6,449
Growth in 2015: +1,242 (24%)
Fastest-Growing: 12
Largest: 81