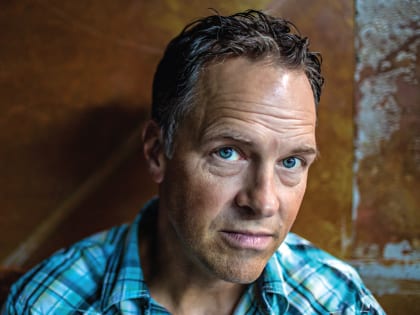 "God planted a seed in my life—a real desire to strip away everything that is nonessential to helping someone understand Jesus."
Brian Tome thinks the church should be entrepreneurial, that it should be ever-new, simultaneously consolidating and decentralizing, calling people into freedom—that its people should, in fact, be released into ministries that may be difficult to contain with the potential for impact almost impossible to suppress. Turns out the senior pastor of this year's fastest-growing church thinks about ministry a lot. Here's where he's coming from …
When did your relationship with Jesus begin?
I was your classic high school jock partier—play football and then party on weekends. Somebody asked me to go to a camp to play football. It was the old bait-and-switch. It was like a 2-hour football game and then the rest of the time was the classic Young Life weekend that ends up in a "cross talk" and I ended up receiving Christ. I was 15 or 16 at the time, and what stupefied me was how I could have gone to church my entire life and never understood who Jesus was. I was really, really ticked by that. At that point, God planted a seed in my life—a real desire to strip away everything that is nonessential to helping someone understand Jesus. Short of sin, we will do everything and anything to do that at Crossroads.
What was your religious upbringing?
I was Presbyterian. My mom would play the organ and my dad sang in the choir. We called the hymnal the "humnal" because no one knew the words and so everyone would hum. As a child, I would sit in the front row and as I got older I found myself moving further back until I was finally sitting in the folding chairs in the back. As a teenager, I remember looking around and asking, "Why is anyone still here?" As soon as I was old enough to make my own decision, I decided never to go to church again. That's basically what people have done all across the country. The picture of Jesus that we are communicating is not relevant.
So what picture of Jesus did you have as a child?
He was a reference point. I didn't have any sense of the person of Jesus. There was no personality behind him, no intensity, no fabric to grab on to. He was a general concept. When I came to Christ, I realized the personality of Jesus and understood a relationship with him was revolutionary.
How did you get into church ministry?
The guy who led me to Christ started a parachurch ministry to help train youth through the local church and asked me to be involved. For the first time in my life, I felt the call of God. After that program, I went to work at North Park Church in Pittsburgh. I had been on staff maybe five years at that church when one day, out of the blue during prayer I heard God say, "Go to seminary," which was really a weird thing because it had taken me seven years to get through college. I told my wife and she thought I was crazy.
How did you view that experience?
It was kind of like a pendulum. I felt I needed to go to seminary to be prepared theologically, but I also understood its limitation. I knew I would not receive a practical education from people who were frustrated with the church and had been teaching in an institution for decades.
How did you start Crossroads?
After seminary, I went back to the church where I had done student ministry and during a performance review, I heard God say to me, "I don't want you to do another one of these." I felt that my gifts had been developed as much as they could in that environment, so I went into major networking mode. I contacted every senior pastor I knew, answered every ad I found and pursued any church planting plans. I just went for it. In the end, there was only one response. It came from 11 people in Cincinnati who wanted to start a church for people who had given up on God.