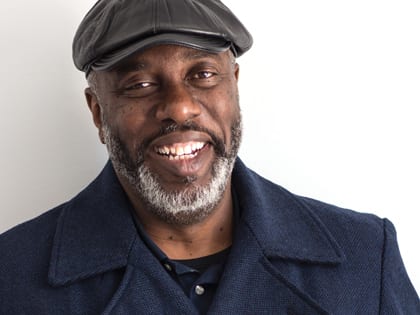 "As a Muslim, I couldn't hold together how God was the perfect judge and all-forgiving at the same time. How was that going to happen?"
Interview by Rob Wilkins
A few years after his conversion to Christianity from Islam, Thabiti Anyabwile stood in the balcony of Capitol Hill Baptist Church in Washington, D.C.
Little did he understand then that this would become a place of mentoring, a church home that would launch him into roles as church planter, pastor and author of several books, including The Gospel for Muslims: An Encouragement to Share Christ With Confidence; Captivated: Beholding the Mystery of Jesus' Death and Resurrection; and The Life of God in the Soul of the Church: The Root and Fruit of Spiritual Fellowship.
Anyabwile was simply introducing himself to new friends during his first visit to Capitol Hills. After enjoying the service, a man dressed in a military uniform met him—posture upright, voice deep, he held out his hand: "I'm Jim."
After polite discussion, they walked down the steps and Jim introduced Thabiti to another man, an older African-American with a bright smile, who extended his hand and also said, "Hi, I'm Jim."
The second Jim then turned around and introduced another man, an older white guy, and he extended his hand in introduction with the same words: "Hi, I'm Jim."
Smiling at the coincidence, Anyabwile remembers thinking two things: What kind of a cult is this? and, I'm not changing my name.
He wasn't kidding—about the name change, at least.
Born Ron Burns, Thabiti Anyabwile did not abandon the name he took at the time of his earlier conversion to Islam. He explains why:
"For me, it wasn't as much a Muslim name as a cultural association. Thabiti has its roots in Africa, a Swahili word suggesting, 'a true man and upright.' Anyabwile is Arabic and means, 'God has set me free.'"
Propelled into the role of a powerful Christian spokesman addressing religious and racial divides, by God's stunning providence, the name has turned out to be true.
Can you tell me a little about your childhood?
I grew up the youngest of eight children; my mom never married. I was born in the barbecue capital of the world, Lexington, N.C. It's the Bible Belt with lots of nominal Christianity and that was true in our family too. When my brothers got into trouble, they would go to church for a while before they would go back to the same trouble.
So did you follow in your brothers' footsteps?
My junior year in high school, I got arrested for the first time. Long story short, I got caught stealing. I thought: I'm in trouble, Mom's heart is broken, I better go to church for a while. That's what I did for a few months. It was a pattern in our family. Church was like rehab.
You mentioned your mother, what about your father?
I came along late in life for Mom and Dad. They never married and I was the only child they had between them. My other siblings had a different father. My dad was never faithful to my mom. He was a kind man, in many respects. By the time I was 13, he left and I didn't have much of a relationship after that. I'd see him around from time to time; he'd give me a couple dollars. That's about the extent of it.