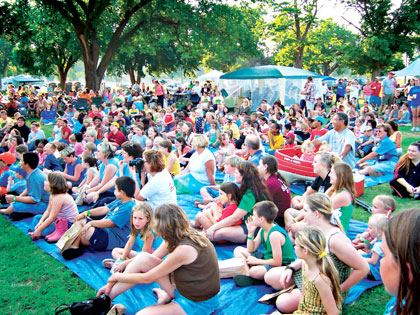 Unite churches in your community and reach kids and their families with games, inflatables, Bible story tents and more.
Community Church in Guthrie, Okla., works with multiple churches across denominations to put on the Back Yard Bash, an annual children's festival that takes up two blocks in the center of town.
The churches provide games and prizes, bounce houses and other inflatables, live music, petting zoos, food and more. School supplies, hair cuts and dental screenings also are offered. Everything at the event is free.
Kids earn tickets they can redeem for prizes by playing games, jumping on inflatables and visiting any of the six tents where Bible stories are shared. The kids receive 10 tickets for visiting each story tent.
"We've had many salvations in those tents," says Community Church Senior Pastor Bill Williams, who adds that the story tents present biblical truth with kids' parents standing close by. "Most everybody wants good things for their children and for families. That's a common thread—believer or nonbeliever. What's neat is when they find out the centerpiece is the love of the Lord."
Find more summer outreach ideas »