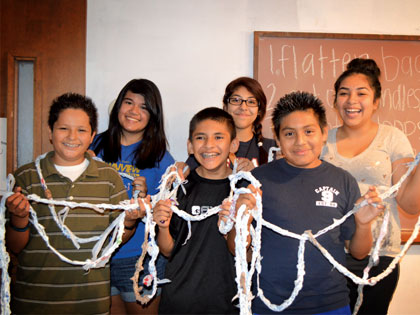 A Dallas church teaches underserved youth the value of their own contributions.
Being from the 'hood didn't stop 14-year-old Bricia Campos from giving back. This past summer, she and 100 other underserved youth from Dallas' Oak Cliff district gathered at Elmwood United Methodist Church to weave sleeping mats for the homeless and perform other community services, as part of a free weeklong summer camp hosted by Project Transformation.
The Christian nonprofit organization—with branches in Dallas, Tennessee and Oklahoma—sends teams of college students to partner with United Methodist churches in low-income areas, connects those churches to their communities and addresses the academic, physical and spiritual needs of the children from those communities.
On the floor of a gymnasium, Campos and her peers braided more than 1,500 recycled plastic shopping bags into sleeping mats to donate to Dallas homeless shelters.
"It was a lot of hard work, but it was worth it, because it's showing [the homeless] we care about them and they are not alone," Campos says.
The camp also included literacy training, spiritual lessons and practical life skills. Elmwood's Pastor Sandra Cabrera says her church's 13-year partnership with Project Transformation has helped teach youth the value of their own contributions.
"Project Transformation helps fulfill the mission of the church—to impact the lives of our neighbors in our community," she says. "I love to see the vibrant life of the youth ministering to others in need."