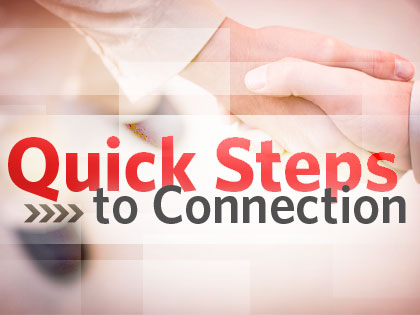 How Eastside Christian Church connects people by background, life stage and ZIP code
Eastside Christian Church
CONNECTION POINTS
In one year, 1,066 adults attended "First Step With Gene"—10 percent accepted Christ there for the first time. Some 360 went on to a seven-week "First Step Experience."
TRY THIS
Step one—dinner with pastor; Step two, for many—a seven-week spiritual formation course
Gene Appel, senior pastor, and Greg Curtis, community life pastor, interviewed by Heather Schnese
After your services, you invite new people to your "Guest Central" where volunteers give them a gift and invite them back. What happens next in terms of retention?
Gene: We try to make the answer to every question "First Step With Gene." If they want to know, What do you believe? What do you have for my student? What compassion projects do you offer? Whatever it is, the answer is "First Step With Gene."
And what is First Step With Gene?
Gene: We offer the evening every six to eight weeks, and it's about an hour and 15 minutes. We provide a light meal—pizza, salad—and child care. Primarily they're going to hear me talk: first, I talk about my story; then I talk about the Eastside story; and then I bring it down to their stories—where they're at in their spiritual journey. Wherever they are, we want to help them take the next step, which at Eastside is a seven-week spiritual formation course we call the First Step Experience. Eventually they can take the "big step"—enrolling in our recently launched Eastside Institute.
Greg: While we'd love it if everybody did the First Step Experience, I try to get them to customize their thinking at First Step With Gene. We're all at a different place on our spiritual journey, so their next step could be different. I introduce them to our connection groups—they might want to move right into those. For some people it's serving. Others are in a crisis of some sort, and our Friday Night of Hope ministry would be the next step for them. Then the last thing I always do in that class—it's kind of odd because people are often getting ready to leave—but I give them the opportunity to accept Christ.
Gene: And about 10 percent of the room accepts Christ for the first time.
Why do you think First Step With Gene works as a launching pad?
Greg: The question they ask when they get out of the car in the parking lot is: "Is there anybody like me here?" That's an interesting thing to build strategy on—helping people find other people who they see as similar to themselves. So we have table hosts from a variety of life stages and spiritual backgrounds. And we assign them to tables with people we think they'll relate to. The table hosts build good relationships using some questions we've given them. Then if people end up coming to the seven-week First Step Experience, we organize those tables not just by life stage but by ZIP code. About two-thirds of those tables launch as new connection groups—they've bonded by same neighborhood, similar life stage.
Can you share how these steps have led someone to be a committed member at Eastside?
Gene: When we first moved to our new campus we had a "Party on the Plaza"—basically a big street fair—and Mike and Ali came. Ali had never been to church—she's a hairdresser. When asked by her clients, "What are you?" she'd say "I am nothing." Mike was a dechurched Catholic. At the event, they heard that we were going to be doing a series on marriage and decided to try it. At one point during that series, we offered people an opportunity to receive Christ, and they did. So, then they came to Easter, which was just following that, then First Step With Gene, then the First Step Experience. And over the course of doing this, they went from dechurched man and atheist woman to getting trained in the Bible. Their table ended up a connection group, and now they serve at Guest Central. They love to welcome people and get them to First Step With Gene. Mike has actually joined the Eastside Institute, too, and is investigating a life devoted to ministry.
EASTSIDE CHRISTIAN CHURCH
Anaheim, Calif.
Website: Eastside.com
Pastor: Gene Appel
Founded: 1962
Affiliation: Christian – Independent Christian Churches
Locations: 1
A 2013 OUTREACH 100 CHURCH
Attendance: 4,345
No. 11 Fastest-Growing
Growth in 2012: +1,170 (37%)