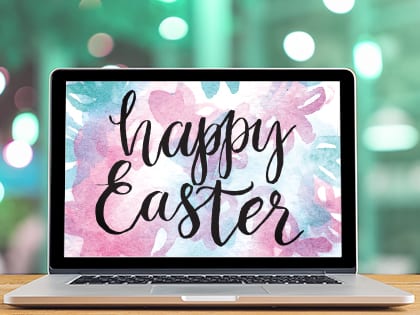 "Use your special Easter page as a sort of 'What to Expect' page for all your incoming guests."
Does your church have a special Easter webpage? It should.
Here's why:
1. People check you out online before they check you out in person.
2. It shows people that your Easter services are a priority and something you're really hoping that they attend.
3. It gives your social media posts, images, promotions and ads somewhere to point to (a permalink).
4. It is shareable.
5. It gives you one spot to announce how many services there are and if there are time changes just for that day.
Tip: Use this special Easter page as a sort of "What to Expect" page for all your incoming guests. Make sure this page is mobile-friendly. People will look at it on their phone to find out your service times.
I recommend creating a page on your existing church website that is located at /easter and is something easy to point all your people and promotions to—unless like some churches have done, you make your entire homepage (above the fold) an Easter promo.
Here are some examples:
(NOTE: These are not ranked—just listed as I came across them.)
1. West Ridge Church—Great website. (They also have a separate Easter page.)
2. Life.Church
3. North Point Community Church
4. Willow Creek
5. Liquid Church
6. Elevation Church
7. Buckhead Church
8. Church of the Highlands (Note the "What to Expect" section.)
9. Rock Church
10. Bayside Church
11. First Dallas
12. Cornerstone Church
13. Christ Fellowship
14. Potential Church
15. Canyon Ridge Christian Church
I have a whole chapter dedicated to online presence in my book Secrets of a Secret Shopper. Buy it today, share it with your team and do all you can to turn first-time guests into second-time guests.
Greg Atkinson is a leadership coach and guest-services consultant with more than two decades of ministry experience. This article originally appeared on GregAtkinson.com.