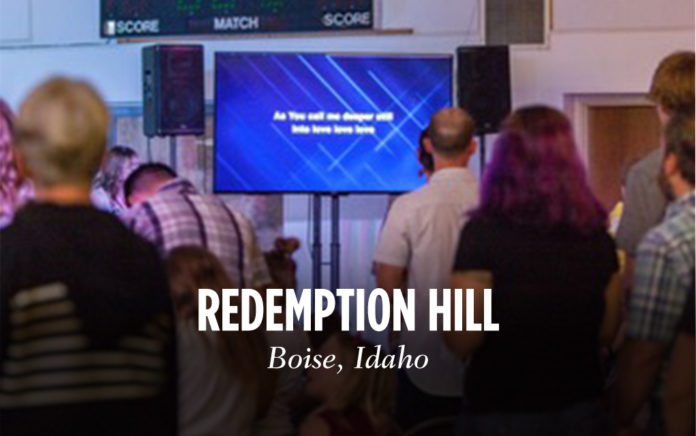 Redemption Hill has multiplication in its DNA.
Redemption Hill, a small church of about 150 weekly attendees in Boise, Idaho, is only three years old, but it's working to find creative ways to turn the tide of secularism and unbelief in the region.
"Boise is one of the least churched, least religious cities in America," says Redemption Hill pastor and elder Robert Frazier. "About 55% are religious nones, and it's about 12% Catholic and 14% Mormon. We think about 7% are in gospel churches in a given week."
That leaves a lot of people needing to be reached with the gospel and a personal relationship with Jesus Christ. Before Frazier even planted Redemption Hill in 2017, he joined up with five other Boise-area pastors to create The City Network. It's grown into a partnership of about 40 churches in Boise representing all different sizes, backgrounds and denominations, and its aim is to ensure that Boise witnesses the birth of 200 new gospel-centered, reproducing churches in the next decade.
That's because Boise is a rapidly growing city, with a growth rate of about 25,000 people a year. The entire southwest Idaho region is home to about 750,000.
If we plant just one church, it's not going to move the needle, so we've got to plant close to 200 churches in our city in the next 10–12 years," he says. "We just have to think on a different scale. It's forced me to think multiplication."
In its short three years, Redemption Hill has helped plant 12 churches locally through The City Network. Multiplication has been part of its identity since before its birth.
"We started setting money aside immediately for church planting," he says. "Before we launched we were planning it. That was a part of our vision from day one."
Besides working with The City Network to help plant local churches, Redemption Hill is growing the church in other ways: They've welcomed church planters to preach on Sundays, and some of Redemption Hill's people have joined those launch teams. They've also raised up leaders who have or are preparing to be released to plant locally.
Another more recent form of multiplication has been borne out of necessity. Prior to the onset of COVID-19, Redemption Hill was a hybrid of Sunday gatherings and missional communities. But since COVID has forced the church online, Frazier says it has become somewhat of a microchurch movement.
"I think that's part of God's plan to multiply," Frazier says. "It will help us raise up leaders."
Looking toward the future, Frazier says he hopes Redemption Hill will be able to launch semi-autonomous churches that are essentially networks of microchurch expressions. They're also looking to plant a second Redemption Hill campus closer to Boise State University.
"Multiplying churches are going to be the center of the Christian movement because they will determine long term the direction of the church and the effect it has," he says. "Whatever is multiplying is the thing that will continue on, and whatever's not multiplying will die off of influence over time. So multiplication is the leading edge of the church."
—Jessica Hanewinckel
Read More Church Profiles Here »
REDEMPTION HILL
Boise, Idaho
Lead Pastor: Robert Frazier
Website: RedemptionBoise.org
Founded: 2017
Church-Plant Affiliation: New Thing, Ecclesia