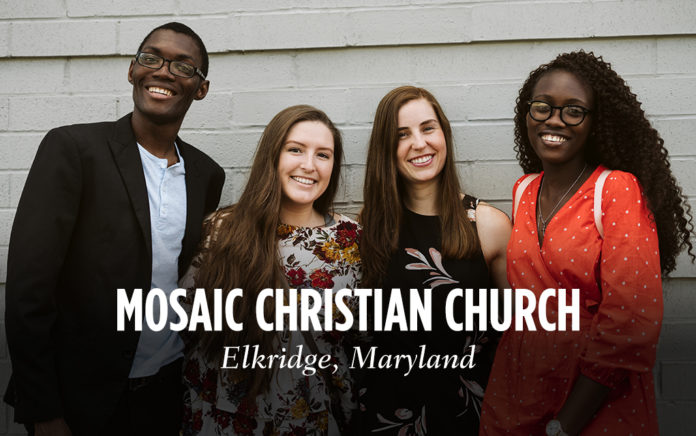 Maryland church turns crises into opportunities.
In the 12 years since Carl Kuhl planted Mosaic Christian Church in Elkridge, Maryland, he has learned that when it comes to making progress, it's not a sprint—it's a marathon.
"The lesson I wish I'd learned sooner is that it's a series of marathons," says Kuhl. Because the church recognizes the emotional and psychological toll it takes to plant a church and do it well, in the last year, Mosaic's board put in a sabbatical plan for every full-time employee.
"We all run hard, and we all need a forced break longer than just a Sabbath or vacation," says Kuhl.
The pandemic has obviously been a stressor in many ways. However, Kuhl feels that there has been more unity among pastors than ever before.
"I've engaged in multiple gatherings where pastors have gotten together to learn from one another," he says. "One is from a church plant organization, another is from an affiliation of Christian churches that are 1,000+, and just recently all Maryland churches 1,000 and over are putting our heads together, too."
Like every other church in America, Mosaic's numbers skyrocketed initially when everything shut down in the spring, then gradually decreased from there. Nevertheless, they are still engaging more people weekly than they did in person. What they are anticipating, however, is a consistent reduction in numbers as fear lingers about returning to in-person services. Kuhl had talked to a pastor in Houston whose church was damaged by a hurricane, and he said it took multiple months for their building to be fixed but then another year for attendance to get back to what it was before the disaster.
"I told our staff that it will take a year or maybe two or three before we are back to where we were earlier this year in person," says Kuhl. "Again, online, I think our reach can continue to expand."
Sometimes being forced to make changes is not such a bad thing. Kuhl readily admits that last year they made plenty of bad choices, starting with pouring way too much time, money and energy into the Christmas season. Despite all their efforts to attract a large crowd, it was the first year in their 12-year history that they did not have record attendance at their Christmas services.
"We learned some things from that, though," says Kuhl. "I think God blesses us in spite of ourselves."
When Mosaic Christian Church originally launched, it met in a movie theater, which created a host of memorable experiences, including the week they had a portable baptistery that was made by a hot tub company. One Sunday they were having problems tearing it down because the pump wasn't working. As people began filing in to go to the movies, a guy asked Kuhl, "Hey, is that a prop from the movie?"
Kuhl explained that no, they held church there in the morning. Out of curiosity, he asked, "What movie is playing?"
The man responded, "Hot Tub Time Machine."
Kuhl recognizes that the demographics that make up their congregation define what messages fly and which sink.</p.
"The people here are very intelligent and educated," says Kuhl, noting that the Baltimore-Washington D.C. area of their county has the second highest percentage of graduate degrees in the country, second to Silicone Valley. "We have a smart audience. In fact, we recently did a series on science and faith, and I was blown away by the number of people who were into it."
When racial injustice became a hot topic early in the summer, the church chose to engage in tangible things that can make a difference, such as partnering with a sports ministry that's located in a neighborhood in West Baltimore.
"They help the lives of young teen boys who desperately need a mentor," says Kuhl. "We gave a monetary gift that is larger than any we have ever given to a local partner in the history of our church, because they are a part of the solution and we want to keep working with them and showing that we believe in them."
—Christy Heitger-Ewing
Read More Church Profiles Here »
MOSAIC CHRISTIAN CHURCH
Elkridge, Maryland
Lead Pastor: Carl Kuhl
Twitter: @MosaicMD
Website: MosaicChristian.org
Founded: 2008
Affiliation: Nondenominational
Locations: 1
Attendance: 1,667
Growth: +196 (13%)
Fastest-Growing: 81