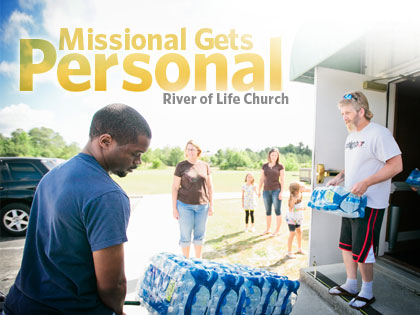 River of Life Church Takes Relational Ministry to the Neighborhood
When Fernando Gautier answered a knock at his front door one Saturday morning, the timing can only be described as divine intervention.
He and his wife were in the midst of marriage troubles, and she was packing her bags. But when the people at the door—a ministry team from River of Life Church in Jacksonville, N.C.—offered him a gift of food and asked if they could pray for him, he immediately invited the team inside and sought help for his marriage. The team, comprised of a couple from the church who was serving their very first day in the ministry, sat with the couple for a while, talked and prayed with them and invited them to church the next day.
Today, Gautier's marriage is thriving, he welcomed Jesus into his heart and he's one of the Serve Team leaders at River of Life, what James Grayson, outreach and missions pastor at the church, calls, "one of the greatest helps I have right now; just a tremendous guy."
It's just one of many testimonies Grayson recalls as proof that the Serve Team, a ministry that brings church members into local neighborhoods to serve and reach out to them in a practical, personal way, is transforming the lives of many Jacksonville residents.
The church had already been serving people in the surrounding neighborhoods, but after a visit to the Dream Center in L.A., where Grayson learned about its Adopt-a-Block ministry, Grayson realized that the key to transformation was consistency and relationships. He now asks volunteers for a three-month commitment and sends them to the same homes every week.
"People don't care how much you know until they know how much you care," Grayson says. "Our whole philosophy was not trying to go door to door and just tell people about Jesus right away, but to begin to develop relationships with people so that they would be open with us, and then at the right time we could share Christ."
The ministry, which began about a year ago and is currently in two Jacksonville neighborhoods (they plan to be in four by the end of 2014), places church members in the lives of residents in three distinct, progressive phases:
1) Every Saturday morning for three months, teams blanket a neighborhood, visiting the same homes each time. The teams offer a small gift, like a loaf of bread, and let the residents know they're in the neighborhood to share God's love in a practical way. Then the teams ask if they can pray with the residents or serve them in any way. In many cases, Grayson says, relationships form, walls come down and Christ is embraced.
2) After three months, the teams gather with the residents for a big block party, complete with games for kids and a big cookout, all free. They let the neighborhood know that from that point on, they can find the same familiar faces at that location each Saturday morning.
3) A committed team of church members returns to the meeting point as scheduled. They set up white tents, share a short message of faith, offer prayer, serve the residents if they have specific needs and hand out groceries to those who need them.
"What's so great about it is when you get into phase three, now the people who are out there, we know them and they know us," Grayson says. "It's a blessing to hear how God is blessing their lives. It's almost like we're having another service outside the four walls of the church."
The church has already met many residents' needs, like furniture and clothing, home repairs and cleaning. They partnered with a local supermarket chain and state food bank to provide food and acquired a van to transport residents to church.
Convincing the church to develop a missional mindset has been, so far, not too difficult. Grayson recently produced a video of several of the testimonies to come out of the ministry, which he plans to show at the church's Sunday services to make an appeal to even more of the congregation to become involved.
"A lot of people look at pastors and think, 'Pastors are like the pros, in a sense. They're the ones who are supposed to do the ministry, and we're the ones who are supposed to come to the church and get fed,'" Grayson says. "When you look at Ephesians 4, the Bible says the reason the discipleship ministry exists is to equip the saints for the work of the ministry. That's one of the things we really believe in, because the same Jesus and the Holy Spirit that lives inside of me is the same Holy Spirit and Jesus that lives inside of you."
RIVER OF LIFE CHURCH Jacksonville, N.C.
Website: ROLChur.ch
Lead Pastor: Chris Phillips
Founded: 1992
Affiliation: Nondenominational
Locations: 1
Attendance: 1,300