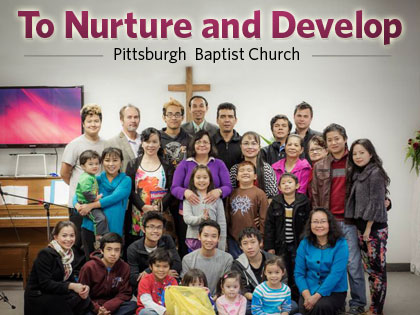 Pittsburgh Baptist Church Nurtures Start-Up Ethnic Churches Until They're Strong Enough to Stand on Their Own
When Pastor Dan Nguyen came to Pastor Kim Grueser, of Pittsburgh Baptist Church, Nguyen was hoping to simply rent some space at Grueser's Pennsylvania church to hold services for his own Vietnamese congregation. But Grueser, and his congregation, don't ever just rent space to the small ethnic congregations that meet in their building.
Grueser looks at the arrangements as a total partnership; he and his church come alongside the fledgling groups and serve as partners in building their foundations until they're ready to launch independently, despite language and culture differences. They may worship and fellowship together only occasionally, but Pittsburgh Baptist is serving as their support system, for as long as they need it.
The ultimate goal? To more effectively reach the community's ethnic minority groups. A wide swath of ethnicities is represented in the 90,000 or so residents who live within a three-mile radius of the church, Grueser says.
"I explained to him that we weren't interested in simply renting space," says Grueser of Nguyen. "We wanted to partner with him for the kingdom of God, because he certainly would be much more effective at penetrating the Vietnamese community in the South Hills of Pittsburgh than I would be or anyone else in my congregation."
The Vietnamese congregation, known as Pittsburgh Vietnamese Baptist Church, has been holding its services at Grueser's church for about a year, but it's only the most recent in a string of ethnic churches to call Pittsburgh Baptist its home and partner. A Ukrainian Slavic Baptist congregation (Pittsburgh Slavic Baptist Church) has held services there for about 14 years, even before Grueser's arrival six years ago; a group of Tamal Indians of various Christian denominations meets for a cultural gathering once a month; and, almost three years ago, Grueser began working with Pastor Deo Lagoon to establish an independent Bhutanese congregation.
Like Pittsburgh Baptist's partnership with the Vietnamese congregation, the Bhutanese one started out of a need to better reach a specific subset of the community. Lagoon first joined Pittsburgh Baptist as a member with no plan to build a Bhutanese church community, but his passion for evangelism and outreach led to meetings of about 25 Bhutanese and Nepalese in his home.
"I said, 'Well let's work toward starting a church for that community. Let's get intentional about this,'" Grueser remembers.
Grueser now worships and delivers a sermon on occasion with the Bhutanese, and he recently celebrated the official installation of Nguyen as pastor of the Vietnamese congregation. For both groups, he's working to help them align with the North American Mission Board for some church planting funds so they can more easily achieve independence, probably in another few years. He's also working with the leadership in the Ukrainian church to find the balance between retaining old-world tradition and embracing discipleship in a younger generation.
And though Pittsburgh Baptist maintains a distinction from its "adopted" congregations, its own congregation is quite diverse as well. Since its founding in 1959, the church has been known for its openness to a multiethnic, multicultural community. Today, it's not uncommon to see this Southern Baptist church welcoming its own congregation of Haitian, black, Filipino and South American members.
"We simply have embraced folks and whatever background or culture, in terms of their ethnicity, in coming here," Grueser says.

PITTSBURGH BAPTIST CHURCH Pittsburgh
Website: PittsburghBaptist.org
Senior Pastor: Kim Grueser
Founded: 1959
Affiliation: Southern Baptist
Locations: 1
Attendance: 130
Plus: Ukrainian: 25; Vietnamese: 30; Bhutanese: 35; Tamal Indian: 25