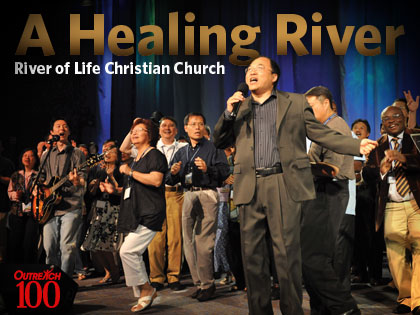 Tong Liu: "People are broken spiritually and suffer from physical diseases, so we focus on a healing ministry, and that really draws a lot of people to Christ."
View the complete Fastest-Growing list >>
River of Life Christian Church
A 2013 OUTREACH 100 CHURCH
#78 FASTEST-GROWING
At age 42, Gerry Liu had achieved the pinnacle of Silicon Valley success.
By 1998, he had served as the president, vice president and general manager of Silicon Valley companies with annual revenues ranging from $200 million to $4 billion. He had traveled to Asia dozens of times on business and had just sold two semiconductor-related startup companies at a hefty profit.
"It's not easy for people like me to come to the Lord because of our arrogance and pride," Gerry says. "I had been in the Silicon Valley for 31 years during the 21st century version of the Gold Rush."
At the time, several Christian friends who attended River of Life Christian Church in Santa Clara, Calif., had been talking to Gerry about Jesus. Then, one day while he was at gift shop inside the Taipei International Airport, a book—The Bible Code—caught his attention. In the book, author Michael Drosnin claims hidden mathematical codes in the Bible reveal secret messages and predict future events.
"The Bible Code opened my mind," Gerry says. "I have a Ph.D. in computer science from (the University of California, Berkeley) and had majored in math as an undergraduate. The Lord loved me so much he showed me The Bible Code, which takes a math major to fully comprehend. After a few days of research on the Internet, my wife and I received Jesus Christ as Lord."
Within days, though, Gerry's wife, Carol, was diagnosed with cancer. She began chemotherapy treatment, but a virus "exploded in her body" and threatened her life. Because she was unable to continue the chemotherapy, which had weakened her immune system, their doctor recommended an experimental treatment that had been used on only one other person. The couple sought prayer at River of Life Christian Church, and Gerry says, "The Lord miraculously healed her through that experimental medicine."
Today, the couple are very active in the church—selected by Outreach magazine and LifeWay Research as one of the nation's "100 Fastest-Growing Churches in America." The church is the largest Chinese church in America.
Since the multiethnic church's founding in 1995, membership has grown from about 70 to more than 3,000 people today—a phenomenon Senior Pastor Tong Liu attributes to several factors, including an emphasis on prayer and healing and a biannual 21-day healing and evangelistic crusade the church holds. The name of the church, which can seat 1,400 people at a time and has eight services per week, comes from Revelation 22:1-5, which talks about the "river of life" flowing from the throne of God.
"We focus a lot on healing," Tong says. "We believe it's the most effective way to reach out to people. People are broken spiritually and suffer from physical diseases, so we focus on a healing ministry, and that really draws a lot of people to Christ."