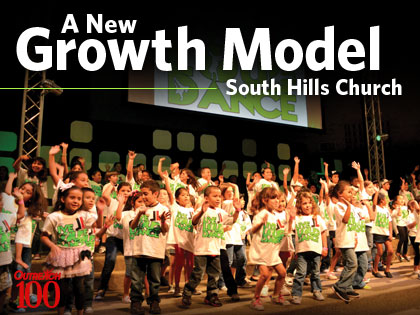 Chris Sonksen: "Our objective is to come alongside [small] churches that have potential to go to 200 or 300, but they just don't have the networking or the understanding or the systems."
View the complete Fastest-Growing list >>
South Hills Church
A 2013 OUTREACH 100 CHURCH
#62 FASTEST-GROWING
South Hills Church Lead Pastor Chris Sonksen doesn't videotape his sermons for the other campuses of the multisite church that originated in Corona, Calif.; that would be hard for a pastor who doesn't regularly preach.
Since he and wife Laura began the church with a core group of 50 people in 1998, he says, their mission was to lead unchurched people into a growing relationship with Jesus Christ. In the past year, that's meant devoting more time to coaching pastors on how to expand their reach and "adopting" some of those leaders' churches into partnership with South Hills.
"I don't even speak except for once in a while at some of the campuses, so I think it's unique—we've created a 'McDonald's headquarters,' and we're opening up 'McDonald's,'" he says.
Three of South Hills' six sites were churches it "adopted" and rebranded in Riverside, Calif., San Antonio, Texas, and Missoula, Mont. Now leading shepherds instead of sheep, a "monster mental shift," the 45-year-old Sonksen says he searches for churches to "acquire" or opportunities to plant new ones.
"Our objective is to come alongside [small] churches that have potential to go to 200 or 300, but they just don't have the networking or the understanding or the systems," he says. "We completely rebrand them and make them a South Hills church. It's just one of the ways we've grown."
Other ways South Hills has grown are imbedded in its DNA: Small groups, tellingly called Growth Groups, are designed to serve local and global communities; lifestyle evangelism flowing from social outreach is favored over program sign-ups; services have a casual, intimate vibe where authenticity is key; the food is gospel-centered but practical, prepared from a common teaching grid but not a mold, with campus leaders enjoying creative freedom.
At one campus in San Antonio, a dance camp drawing 100 schoolchildren produces talent selected to perform at Spurs basketball games, "and you reach families with that," Sonksen says.