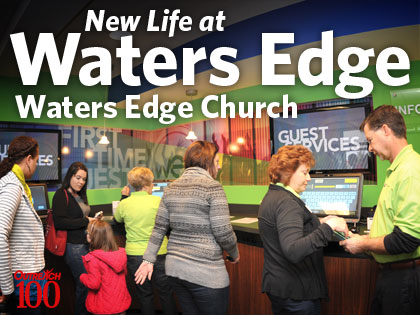 Stuart Hodges: "We are a church that has been successful at reaching unchurched people. When you reach unchurched people, they reach other unchurched people."
View the complete Fastest-Growing list >>
Waters Edge Church
A 2013 OUTREACH 100 CHURCH
#45 FASTEST-GROWING
Waters Edge Church in Yorktown, Va., on the Peninsula of Hampton Roads, is no stranger to Outreach magazine's Fastest-Growing Church Top 100 list. Its growth has continued, leading last November to the addition of a third physical campus, Waters Edge Church Newport News, to join the Yorktown and Hampton campuses, as well as the April launch of an online campus. The Newport News campus has already added a second service.
2013 marks 10 years since the first Waters Edge service at a YMCA, and Stuart Hodges, founder and lead pastor, attributes the growth in part to a laser focus since Day 1 on the church's mission. "We created a culture that really is all about outsiders."
Melissa Horton, director of guest services, notes that 50 to 60 percent of the people in attendance on any given Sunday were unchurched before they came to Waters Edge. The church averages 150 new people between its three physical campuses each Sunday. Thus, Hodges says, "We want to think like someone who is unchurched, in everything we say and do."
Toward this end, the leadership at Waters Edge focuses on doing just a few things really well, making it clear who they are and what they are about without offering extensive programs. "If it's not mission critical, it's mission confusing," says Hodges, adding that unchurched people do not know what church is supposed to be about. Offering a menu of options is confusing to them.
Additionally, one of the church's core values is that church should be fun. Hodges admits that this sounds gimmicky but says it has a deeper purpose. "We think fun laughter is disarming to people, especially men, especially unchurched men."
The culture of fun features prominently in the lobby of each campus, where familiar secular music plays loudly to help guests feel more comfortable entering a place unchurched people are primed to be uncomfortable in. Horton says this has been Waters Edge's modus operandi since the beginning. "The loud music is what people go back to over and over again."