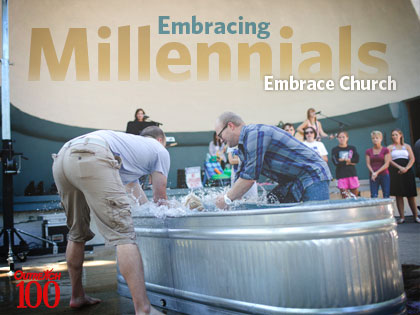 Adam Weber: "People started to tell us, 'This is what we love so much about your church—you're just so real.' … II you tried to create it, it would come off as used car salesman."
View the complete 2013 Fastest-Growing list >>
Embrace Church

A 2013 OUTREACH 100 CHURCH
#40 FASTEST-GROWING
Every Sunday morning like clockwork, newlyweds Dan and Kristina Dykhouse of Sioux Falls, S.D., attended mass at the local Catholic church, but the denomination began to feel rote and uninspiring.
"I almost felt like a zombie," says Dan Dykhouse, a 29-year-old insurance broker whose wife was raised Catholic. "It got to a point where we felt we weren't getting anything out of it anymore; we were going to just check off a box."
So when the Dykhouses' neighbors invited them to Embrace Church about a year ago, they gave it a try. Dykhouse says there he discovered a pastor—Adam Weber—who wears his heart on his sleeve, a worship team that rocks the house, and a casual, no-pressure environment. After six months of being "guests," the Dykhouses say they decided to make it their home church.
"The first couple times I heard Adam I thought, 'This guy's over the top'—I thought it was fake," Dykhouse says. "But over time I realized it's not an act. Adam just wants to connect with every person who comes to Embrace."
Weber, 31, says he knows he doesn't fit the typical pastor mold, describing himself as a "lighthearted, regular Joe" who is still learning what it means to be a follower of Christ himself.
"I speak from the heart," he says. "There is very little I won't share."
Based on Embrace's big uptick in attendance, it's an openness that resonates with many, especially among families in their 30s with young children, the demographic in which the church has seen its largest growth.
Weber and other teaching pastors razz each other during announcements. If they make a mistake, they don't hide it; they poke fun at it. They don't gloss over life's struggles; they relate to them.
"We bring ourselves into sermons," says Executive Pastor Travis Waltner, 32. "I say, 'Let me share how this is affecting my life' … instead of being far off and preachy."
In a big city with a traditional church on every corner, the difference at Embrace—which was launched in 2006 and became weekly in 2008—is a stark and apparently alluring contrast, the pastors say.
"People started to tell us, 'This is what we love so much about your church—you're just so real—we can laugh,'" Weber says. "And I think Jesus laughed a whole bunch."
Weber adds it's not a shtick.
"It's a continuation of what we are the rest of the week," Weber says. "If you tried to create it, it would come off as used car salesman."
Church leaders say they took into account how the church's growth was mostly families with children younger than 6 and molded themselves off that—and didn't try to be all things to all people.
They held off hiring a full-time youth pastor in lieu of more help in the preschool. They constantly post church happenings on Facebook, Twitter and Instagram, popular media among the millennial generation. They formed a contemporary—and extremely talented—worship band.
"We do worship really well," Waltner says, adding well-done spiritual music is a vital way to connect with young families.
Embrace also expanded its summer vacation Bible school, with leaders spending long months planning a massive and elaborate adventure for kids, then advertising it like crazy to the masses. It worked, growing from about 150 kids in 2012 to more than 400 last summer.
Understanding that young families are often super busy and cash strapped, pastors prioritize a keep-it-simple approach to outreach, throwing support behind a single missional effort per month, a program called "One Thing."
In July the "One Thing" was collecting bottled water for food pantries. Past months have included shoe drives, an emphasis on random acts of kindness and supporting a mission trip to Haiti.
Perhaps the biggest struggle the church has faced during its growth has been financial, Weber says, adding he's not too stressed over it.
"I feel churches are the most faithless places for the most part, if we only do what we feel like we can do on our own," he says. "The best word for it is sin. … Faith is seeing the obstacles, seeing the situation for what it is, and then stepping into it."
EMBRACE CHURCH
Sioux Falls, South Dakota
Lead Pastor: Adam Weber
Twitter: @AdamWeber
Website: IAmEmbrace.com
Founded: 2006
Affiliation: United Methodist
Locations: 1
Attendance: 1,112
Growth in 2012: +439 (65%)
Fastest-Growing: 40