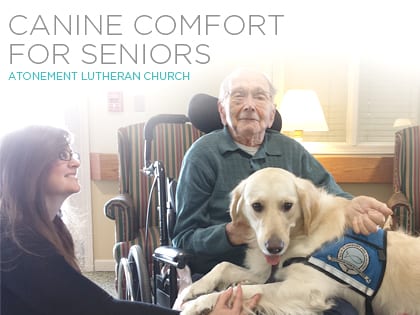 An Ohio Church Brings Comfort Dog on Visits to Seniors
Every Monday, a pale golden retriever greets the residents of Abbington Assisted Living in Columbus, Ohio. Visits from Rosie, a K-9 Comfort Dog, instill peacefulness in the seniors and jog long-forgotten memories.
"It's very therapeutic for residents having the dog come in," says Tina Bridge, Abbington's activity director. "It lowers blood pressure, calms people, brings back a lot of memories for them of having pets. They really enjoy it."
As one of 80 dogs trained by Lutheran Church Charities' Comfort Dog Ministry to show compassion to those in need, pain or suffering, Rosie's job is to bring joy to everyone she encounters. The two-year-old canine has belonged to the new Comfort Dog Ministry of Atonement Lutheran Church in Columbus since August 2014. By the following spring, Rosie had visited more than 2,000 people, according to ministry leader Mary Ludlum.
"We go to schools. We've been to other churches. We go to lots of assisted living programs," says Ludlum.
And Rosie, who makes visits accompanied by a few handlers from church, has the same soothing effect everywhere she goes. While service dogs meet the needs of one person, comfort dogs receive training to meet the needs of groups, Ludlum explains.
Lutheran Church Charities comfort dogs traveled to Newtown, Conn., following the Sandy Hook Elementary shooting; to Boston following the marathon bombing; and to Ferguson, Mo., in the aftermath of Michael Brown's shooting.
With an average weekend attendance of 130 worshipers, Atonement Lutheran launched a comfort dog ministry to step up its community service. Rosie has comforted ailing seniors as well as youth recovering from tragedies. She visits Winterset Elementary in Columbus weekly.
"She has really provided a calming atmosphere for the students and it lasts through the whole day," says Principal Audra Pearson.
At Abbington, Rosie and her handlers see the elderly in "a variety of states," according to Ludlum—"sometimes ill, sometimes feeling well, but most often, they are lonely and in need of a visit from humans and especially God."
Rosie's official last name is Psalm 86:15, which describes God as compassionate, gracious, slow to anger and abounding in love and faithfulness. Because the vest Rosie wears bears the verse, the people who meet her often question her handlers about its significance. That leads to discussions about faith and the opportunity for Rosie's handlers to pray for those they serve.
"We have had people in assisted living who tell us those prayers have been invaluable," Ludlum says. "We have people who are delighted to see Rosie, eager to have those prayers and interact. Those prayers make their week."
CANINE BENEFITS
In nursing homes, the presence of a dog is associated with reduced need for medication, improved physical functioning, and improved vital signs—even when patients are suffering from dementia. The list of benefits includes reductions in loneliness, agitated behaviors and depression, and increases in engagement, well-being, nutritional intake and social interactions.
—PsychologyToday.com