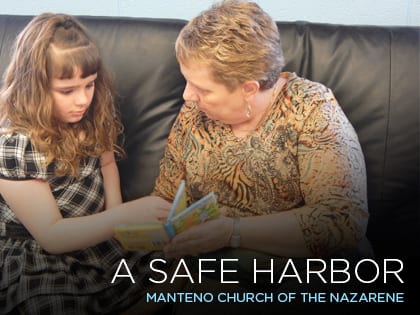 An Illinois Church Welcomes Kids With "Special Abilities"
Sara Matson, children's pastor at Manteno Church of the Nazarene in Manteno, Ill., learned at a conference that 90 percent of families who have children with special needs do not attend church.
So when member Sharilyn Domont suggested creating a ministry to serve the families of children with "special abilities"—a term she and Matson prefer over special needs—the congregation rallied around the idea. Domont and her daughter Shari, a special education instructor, researched classroom needs; members of the congregation donated necessary items, big and small.
In January 2013—a mere two months after the idea's conception—Safe Harbor was born. A sanctuary with calming teal blue walls and soothing sensory lighting, the room provides special toys and outstretched arms.
"This is a place where these kids can relax, be themselves and learn about God," says Matson.
The room, which is open during Sunday school and Sunday's second service, is designed for infants through sixth grade. In the future, they plan to create another room for seventh grade and up.
Children who use the Safe Harbor room can either sit with a worship buddy or join the service for just the music. Then they return to their room where Matson leads them in their own curriculum.
Cindy Rogganbuck began attending Manteno Church of the Nazarene two years ago hoping that her autistic daughter would be more comfortable.
"Sundays used to cause Ashlyn a lot of anxiety—she would cry, whine, yell and rub her face in frustration," says Rogganbuck. "Now she's eager to get to her room at church because she feels so welcome." The church, where average weekend attendance is 430, has been a tremendous blessing to parents as well.
"On rough weeks I come to church running on fumes," says Rogganbuck. "But my tank gets filled up now that I'm in a church where I know my daughter is comfortable, happy and taken care of."