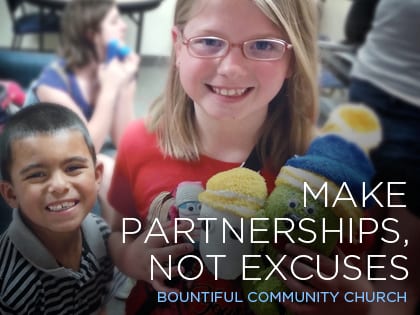 An Aging Utah Church Reaches Out to the Homeless and Hungry
On his 38th birthday, a Bountiful, Utah, man found himself homeless. He and his family were living for two weeks out of a former Sunday school classroom inside Bountiful Community Church in the northern suburb of Salt Lake City. When one of his young sons informed his hosts, a church member sprang into action and presented the man with ice cream, candles and a birthday cake from a local bakery the next day.
"There was this really powerful feeling of community, of love and care," says the Rev. Sharyl Peterson. "It's a birthday cake, but it helps us remember we are sisters and brothers in Christ."
And it was just one example of the church's ability to make a difference in its community, though at first glance BCC wouldn't seem to be a ministry hub.
The United Church of Christ congregation has an average of about 35 Sunday attendees—mostly middle-age and elderly—in a town where mainline churches are small compared to the Church of Jesus Christ of Latter-day Saints, which claims the majority of residents.
Doing a lot with very few resources is nothing new for the members of BCC, though.
In the '70s, members started a small food pantry out of a closet in the church. Today, that's become Bountiful Community Food Pantry, a county-wide effort of several hundred volunteers that feeds 1,600 families monthly.
The secret to a growing impact, says Peterson, is partnerships.
"There has to be another tiny church in your community, and together you can do things that any of your churches alone couldn't do," she says. "When you partner, you expand all of your resources exponentially."
To make the food pantry possible, BCC partners with the Boy Scouts, local supermarkets, the LDS food pantry in Salt Lake City, local volunteers and other churches. In fact, their many connections led them to housing homeless families.
As Peterson tells it, 20 years ago food pantry volunteers knew of Family Promise, a national organization opening a branch in Salt Lake City. Its mission is to help low-income families achieve lasting independence, and one of its five programs is the Interfaith Hospitality Network—religious entities like BCC that host homeless families for two weeks at a time. They provide shelter, meals and support services while Family Promise case managers work on a plan for the future.
Ever since, BCC has served twice yearly as a host church to homeless families. At least half of the active members participate, whether by cooking or serving meals, washing linens or staying overnight as hosts.
"It's interesting because we do have a fair number of older members," says Peterson, "and people have found different places to participate in some way."
They also receive help from volunteers outside the church.
"It really is a partnership, and I think that's what makes it doable," she says. "We're so tiny that I really don't think we could do it alone."
That mentality is what's allowed such a small, aging church to remain relevant in its community over so many years.
"It is so easy for tiny churches to give up and say 'We can't do this because we don't have enough people, we're too old, we don't have enough money,'" Peterson says. "This tiny church can do it, and there's nothing special about us. We just care about our community."
BOUNTIFUL COMMUNITY CHURCH
Bountiful, Utah
Pastor: Sharyl Peterson
Founded: 1881
Affiliation: United Church of Christ
Attendance: 35