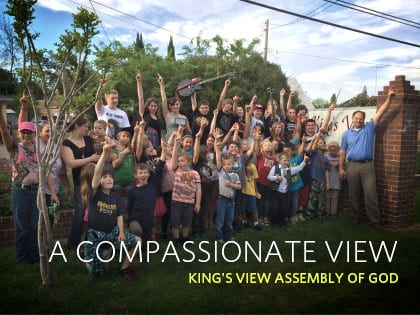 A Northern California Church Addresses Its Rural Community's Biggest Needs
In Ione, Calif., a lot of people know Pastor Dan Epperson, and not just because he's the mayor and there's a picture of him and his wife on a billboard leading into the rural town of 4,500.
Many people know him as the pastor of "the church that cares for kids." So when the pastor of King's View Assembly of God in the northern California town saw a schoolboy walking down the street one day with a torn backpack, Epperson was not treated as a stranger to be avoided.
"He was by another kid who goes to the church once in a while, and his backpack was like—his family has four or five kids and a tight budget—and I said, 'What's wrong?'" Epperson says. "He said, 'You know, my backpack broke the other day, and I can't afford a new one.'"
The church had backpacks available from back-to-school events it sponsors to help the surrounding community, and the boy collected one from Epperson after school.
"It shows we care for the families there and take care of them," Epperson says.
Holding back-to-school events and handing out backpacks was one of the ideas the church picked up from Rural Compassion, which holds regional "24-Hour Workshops" for rural pastors around the nation, providing them ideas and supplies for reaching out to their communities.
Rural Compassion's Kim Harvey, who helped lead such a regional gathering in Gilroy, Calif. in February 2013, says the organization helped King's View assess community needs, which resulted in the church also providing sports drinks to police and fire departments and tissues to school teachers during cold and flu season.
An arm of Convoy of Hope, which provides disaster response and feeding programs around the world, Rural Compassion sponsors drug and alcohol rehabilitation, literacy classes, English as a second language courses, child care and job training programs, among others.
When Epperson began pastoring King's View 12 years ago, he discovered only one or two previous pastors had stayed more than two years at the 59-year-old church, he says. His ethos of meeting community needs, along with Rural Compassion's boost, has helped the church grow spiritually and numerically, he says.
"To give you perspective, when we started there, there were 10 to 12, or 13 of us, and in the last year it's really come alive," he says. "We've probably gained another 30 percent in the last six months."
Average weekend attendance is now about 75 people, plus another 65 to 70 kids, he says.
He began by reaching out to poor kids playing near the church.
"We started with the poor kids, because their parents are not always around a lot," he says. "We started working with them, picking up kids with our church van, and most of them being hungry when we got there, we started feeding them a hot dog every Wednesday night."
Parents saw the church looking after their children, and word quickly spread in the community, he says. With 35-45 children now coming to King's View's Wednesday night kids program, it's as large as attendance at each of two Sunday services, Epperson says. A Thursday night program for teenagers is nearly the same size.
An avid outdoorsman, Epperson has also made inroads to the community by teaching hunter education as a volunteer with the state at three church venues, including King's View, six times per year.
"They've never been in a church, they don't know the pastor personally, so I go up there and talk with them for eight hours in the church, spend the time getting to know them, and it's another way we kind of reach out to the community," he says.
Having a clear vision for meeting community needs has attracted likeminded people to the church, Epperson says.
"We have people who are just as concerned about helping to reach out to the community, and then through that they grow in Christ, and it brings a real depth to them as well," he says.
King's View Assembly of God
Ione, Calif.
Website: KVAG.net
Senior Pastor: Dan Epperson
Founded: 1955
Affiliation: Assembly of God
Locations: 1
Attendance: 140