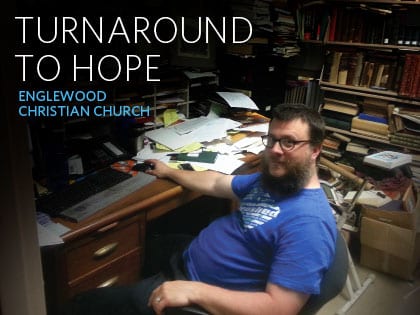 Small Indiana Church Transforms Urban Neighborhood on a Large Scale
Melissa Benton endured a "mixture of physical, mental and sexual abuse" growing up in Indianapolis—even as her parents took her to church "every time the doors were open."
"It was always really difficult for me because it was something we were forced to do, and it felt so hypocritical," says Benton, now 40.
In 1994, she got into an argument with her mother, who hit Benton's daughter. Benton fatally stabbed her mother. She was convicted of murder and sentenced to eight years in prison. Upon her release, her grandparents offered her a place to stay—on the condition that she attend Englewood Christian Church with them. She was apprehensive at first but experienced an "acceptance I had never had before at all in my life." She joined one of the church's small groups and gave her life to Jesus in 2004. She now works as an office manager at an affordable housing corporation and runs a ministry at the church that helps inmates from a nearby prison re-enter society.
The ministry is just one of many at the 250-member church in urban Indianapolis that demonstrates how it's doing great things in its community despite its small size. Englewood has undergone a transformation for the better in recent years and is now considered a "turnaround church."
At one point in the 1970s, Englewood had about 1,100 members, many of whom worked at the nearby RCA Corporation, General Motors or P.R. Mallory & Co. manufacturing plants. But after the plants closed, membership plummeted.
About two decades ago, Pastor Michael Bowling says the church had a serious conversation about what it could do to address the needs of people in its inner city neighborhood.
The church banded together and worked to turn its neighborhood—located in a ZIP code that led the nation in home foreclosures a few years ago—into one of hope.
"We are trying to practice the things that are consistent with what we believe to be the gospel message," Bowling says. "Instead of just preaching that people need to get saved and go to heaven, we are saying people do need to get saved and go to heaven, but God is working at transforming everything—at least that is what Scripture says in Colossians 1, Ephesians 1 and Acts 3."
In an effort to transform its community by offering employment and housing opportunities, the church operates Daystar Childcare, a bookstore, The Englewood Review of Books, a bookkeeping business and the Englewood Community Development Corporation. The ECDC owns about 50 housing units. This includes a $10 million project to convert the century-old Indianapolis Public School No. 3 into 32 units of mixed-income housing. Of those, 10 are supportive housing for people coming directly out of homelessness or who have been diagnosed with a severe mental illness.
Melody Cherrette-Temple, 48, is living in one of the units, a two-bedroom apartment she rents for $212 a month. When she moved to Indianapolis from Texas recently, she was at the end of her rope and living in her car. The last of three husbands had left her following a car accident—a 150-foot plunge off a bridge—that required back surgery and left her disabled. Over the years, she had suffered 72 broken bones at the hands of abusive men. After arriving in Indianapolis in 2011, she sold her car to rent a dilapidated apartment with mold problems. After sending some emails to a housing agency, Bowling contacted her to offer her an apartment.
"This is an awesome community," says Cherrette-Temple, who works on a volunteer basis in the library, bookstore and kitchen at the church. "I've been homeless a lot. I spent almost seven years on the streets. I've never seen anything so outstanding. These are great people. They will go above and beyond the call of duty to make sure everyone has what they need. In the short time I've been here, I've watched this area transform from being really shabby to inspiring."
Bowling says the church tries to follow 1 Corinthians 13-14 in terms of "what it really means to love others."
"Chapter 13 is about the attributes of love," Bowling says. "Chapter 14 says your giftedness is really about building up the body of Christ, and for that purpose you should be gathering to be built up for the work of service. So we just take that very seriously, and God has blessed that."
ENGLEWOOD CHRISTIAN CHURCH
Indianapolis, Ind.
Website: EnglewoodCC.com
Senior Pastor: Michael Bowling
Founded: 1895
Affiliation: Christian – Independent Christian Churches
Locations: 1
Attendance: 100