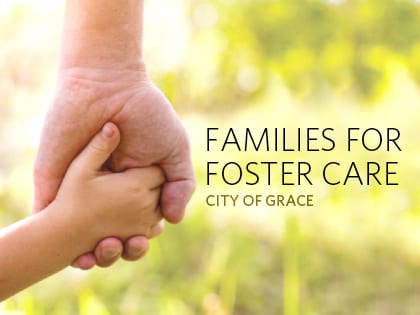 City of Grace and Other Arizona Churches Band Together to Meet Their State's Foster Care Crisis
Pastor Terry Crist of City of Grace, a multisite church in Arizona, knelt down beside a small boy—a foster child, living in a group home. "If there was anything I could do for you, what would it be?" the pastor asked. The boy pulled three church-donated backpacks out from under his bed. "I'm very grateful for the backpacks," he said, "but what I really need is a home."
In the summer of 2012, Crist, along with two other Arizona pastors from Redemption Church and Mission Community Church, had been researching ways the local church could respond to the foster care crisis in their state. Arizona's number of children in foster care had skyrocketed, partly due to the economic downturn in 2009—more children were being abused, neglected, even trafficked, and many ended up in group homes due to low numbers of available foster families. Today, over 15,000 kids are in care, and that number is growing by 1,000 each quarter.
The three pastors were familiar with Scripture verses like James 1:27, which describes "pure religion" as "caring for the orphans and the widows in their distress." Believing care for orphans is a clear biblical mandate, the trio wondered what would happen if they pooled the resources of their churches to create a way for other congregations to engage with foster care ministry.
Together, they dreamed up a collaborative church-based movement: Arizona 1.27. The name serves as a reminder of James' exhortation to care for the orphan.
"Our goal was to help churches," says Katie O'Dell, who serves on the lead team of Arizona 1.27 and, as missions pastor at City of Grace, was part of the early days of the movement. "We wanted to create a 'toolbox' for a church of any size—all you need is a pastor, a small group and a family that is fostering."
That "toolbox" is a well-organized training and volunteer structure that helps churches not only encourage and equip families to foster or adopt from the foster care system, but also mobilizes other church members to support foster families.
For prospective foster families, Arizona 1.27 offers—through the family's own church—a state-sponsored orientation with a faith foundation, and later, a six-hour training that outlines the biblical mandate to care for orphans and helps families discern whether they are ready to foster.
Then, says O'Dell, "We teach churches to 'wrap around' families. It's the whole village approach." Individuals and families commit to supporting the foster family, whether that means bringing meals, offering babysitting or providing things like diapers and hand-me-down clothing.
Today, after only two years, 40 churches have joined the Arizona 1.27 movement, more than 2,600 people have gone through their state orientation and well over 400 families are now fostering or have adopted a child out of the foster care system.
"I think a lot of people have gotten involved because their senior pastor said, 'This is a problem, and we know we are the solution,'" says O'Dell. "We are now seeing how a church can be a healing and restorative place to the community, and it all started as an answer to kids needing loving homes." The community outside the church is taking notice—the director of children's services and even the governor has met with the leaders of Arizona 1.27 to face challenges together.
O'Dell is convinced that any church can get involved in foster care ministry. "Any pastor can begin connecting the dots for people sitting in the pews—that kids need homes and some people are called to provide those homes." Then, she says, it's all about figuring out how to support those families who choose to foster. "It doesn't have to be complicated," says O'Dell. "It doesn't take a lot—it just takes a lot of passion."
CITY OF GRACE
Mesa, Arizona
Senior Pastor: Terry Crist
Twitter: @TerryCrist
Website: AZ127.org
Founded: 2008
Affiliation: Nondenominational
Attendance: 5,000