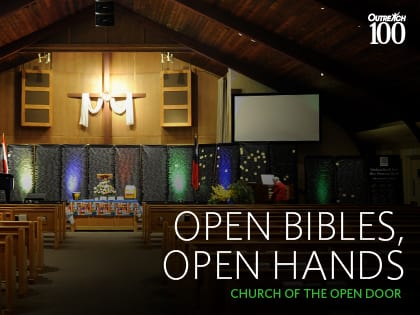 Church of the Open Door Reaches Out While Staying Rooted in Scripture
People brought their own bibles to the Church of the Open Door where Heather Stewart visited. The "fairly unchurched" woman had never even opened her own bible before.
"There were actually bibles in the pews, and they actually read from the Bible," Stewart says.
Indeed.
"We're not going to give up the truth," says Don Heindel, Church of the Open Door's senior associate pastor.
The York, Pa., church, unlike its earlier, 1950s version, offers contemporary trimmings like low lighting, coffee and drums. And in the gym, where their fourth service is outgrowing itself, congregants relax around tables. About 1,000 more people attend their Sunday morning services than seven years ago, according to Heindel.
But leaders won't budge when it comes to biblical preaching. "It's been a plus for us," says Heindel, who lists adherence to Scripture as a key reason they've grown.
It helped Heather Stewart, too. A church member led her to Christ using bible verses, and then Stewart's family—her father, mother, husband, children and brother–came to faith in the five years since her first visit.
Church of the Open Door leaders preach verse by verse from Genesis to Revelation, without skipping hot topics. "We're not seeker-driven," Heindel says.
Nor did they seek growth. They instead sought to be a healthy church—the main reason for their growth—and "healthy things grow," according to Heindel.
On their fitness list is the aforementioned loyalty to preach Scripture. Heindel also credits leaders' willingness to change. They wanted to be a relevant church where newcomers felt comfortable in the setting.
But, again, they kept the church's core intact. They have a history of authentic worship, a multigenerational congregation and a way to love a somewhat skeptical community.
Regarding worship, if Heindel must choose between a godly worship team or a talented one, he'll take the godly group, which he says is "a powerful contributor to how that worship service goes."
No one is perfect, but if leaders are deliberately disobeying God, he'll sideline them. Some leaders have willingly stepped aside. He's not stalking them, Heindel says with a laugh, but he wants people at the throne of God, not enjoying a show.
And quite a wide range of folks are listening. All four services are blended, a core value of Church of the Open Door.
"There are books that say you can't do that," Heindel says.
But it's possible for congregants to sing "Rock of Ages," a preference of an older generation, before hearing a teenager's testimony on her struggle with cutting, a younger generational issue—all in one hour.
"We don't do an old people service and a…service where they rock out," says Heindel.
The church is everybody, and a congregation of only people in their 20s, for example, can miss the wisdom of the older generation and the energy of children.
With the community of York, Pa., the Church of the Open Door had to be patient. Newcomers to the area feel like outsiders, and churches have to show that they're real, according to Heindel.
"You kind of have to earn that trust," he explains.
One man, cross-armed and skeptical, waited to read the fine print even when the Church of the Open Door helped his wife who was struggling with cancer. He thought the church wanted his money, reports Heindel. They didn't. The man eventually dropped his cynicism and accepted both the church and Jesus.
"I think a lot of people wonder, 'What do you want from me?" Heindel says.
Free community yard sales, free car washes, a free carnival that cost Church of the Open Door $5,000, and free use of the church's community building are all ways they love people.
"Pretty much anything we do, we do for free," Heindel says. "People are just like, 'Are you sure this is free? Nothing's for free.'"
But locals remember the church when they need one, and sometimes return and give their lives to Christ. They'll tell Heindel, "I've played basketball on Monday nights at your church."
"It's saying, hey, we're not looking to get anything from you," he says. "We're here to love you and give you the truth—to give you the best life ever."
CHURCH OF THE OPEN DOOR York, Pa.
Senior Pastor: Robert Riedy
Twitter: @BobRiedy
Website: CODYork.org
Founded: 1951
Affiliation: Nondenominational
Locations: 1
Attendance: 1,241
Growth in 2013: +236 (23%)
Fastest Growing: 77